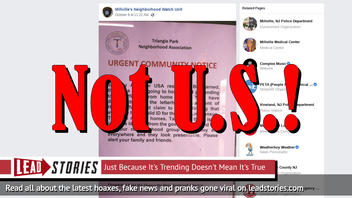 Did the "Department of Home Affairs" issue a "Census Security Alert" about scammers supposedly checking people's ID's and robbing homes in the run-up to the 2020 U.S. Census? No, that's not true: the United States has no "Department of Home Affairs" and the warning is simply a rehash from a real warning that was issued in South Africa but which is not based on any incidents taking place in the United States.
An example of the warning can be seen in this Facebook post (archived here) that showed a photo of a notice with following text:
Triangle Park Neighborhood Association URGENT COMMUNITY NOTICE Security Alert for USA residents: Be warned, there is a group going to homes and pretending to be officals from home affairs. They have documents with the letterhead Department of Home Affairs and claim to be confirming that everyone has a valid ID for the upcoming census. They are robbing homes. Take note there is no initiative like that from the government. Send this on your neighborhood group chat. They are everywhere and they look presentable. Please alert your family and friends. Forwarded from the Greenville Neighborhood Alliance
Several people in the United States shared the image in question under the impression it was about the U.S. Census since it mentions "USA Residents":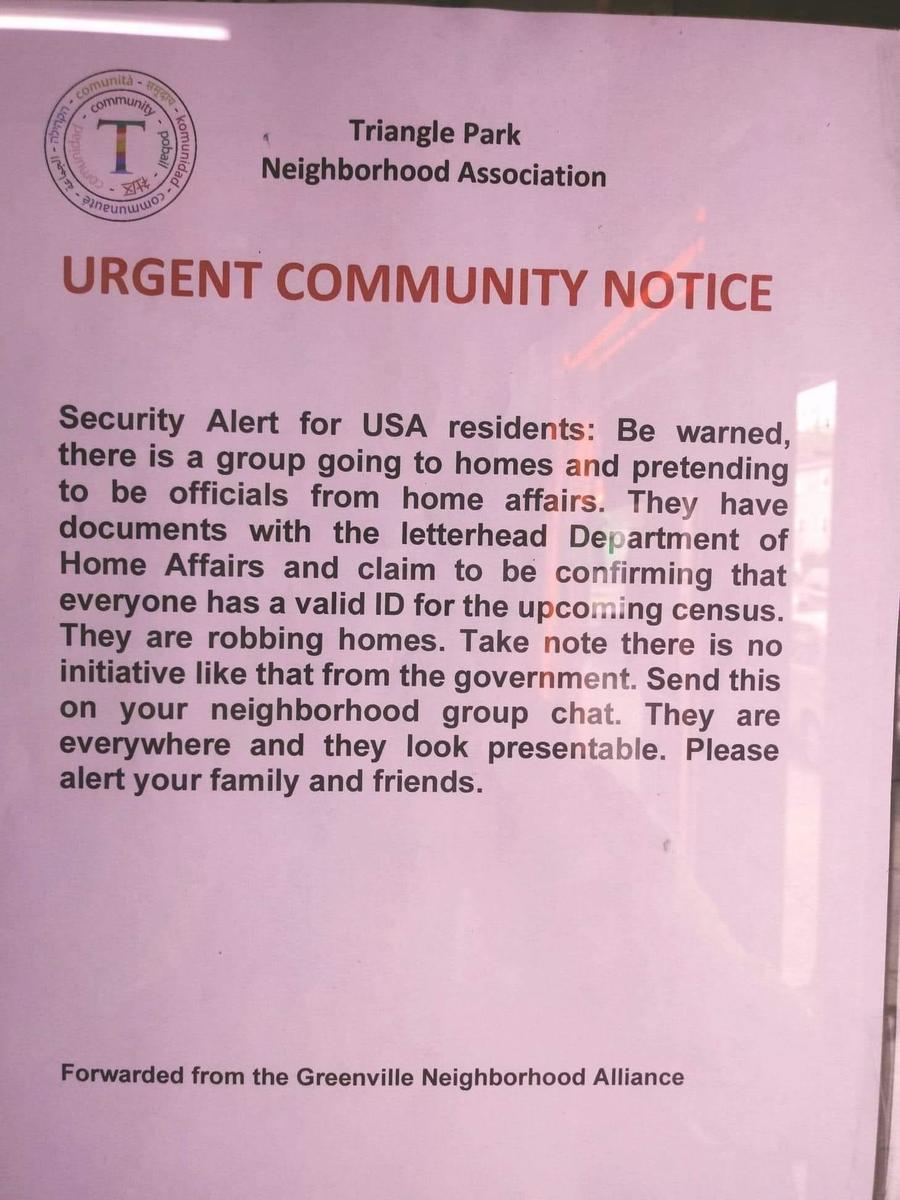 The United States does not have a "Department of Home Affairs". South Africa, however, does.
The South African Department of Home Affairs already issued a statement about similar warnings:
Media statement: Social Media scam alert pic.twitter.com/J8TXiCycTJ

-- HomeAffairsSA (@HomeAffairsSA) September 2, 2019
In their statement on September 2 they even say they haven't actually received any reports of this kind of activity happening:
02 September 2019

The Department of Home Affairs has noted messages on social media saying there are people pretending to be Home Affairs officials only to rob people once they have gained access to their homes. The message alleges that they are carrying letterheads purportedly from the department.

Home Affairs has not received any complaint of this nature from members of the public. People who are aware of such an activity, depending on its veracity, are advised to report it to the police.

"We reiterate our message that Home Affairs officials do not and will not come to your homes to validate IDs", said acting Home Affairs Director-General Thulani Mavuso.
So should U.S. residents be worried about a warning based on incidents that may or may not have happened in South Africa? Probably not.