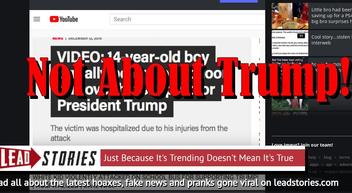 Was a violent attack on a 14-year-old White boy on a school bus triggered by his wearing a MAGA hat and is it part of a civil war in the United States? No, that's not true: Law enforcement and school officials said there is no indcation the fight was related to politics. Although the child's mother claimed in social media posts that her son was beaten by several Black students because he wore a red Trump "Make America Great Again" hat, investigators called that "misinformation." Five juveniles have been charged with first-degree battery misdemeanor charges. One social media poster declared it was part of a civil war in the United States and called for White parents to resist.
The claim originated with a November 21, 2019 tweet from the boy's mother, but it became a viral story when she shared a video clip of the attack that had been recorded by another student. A video (archived here) posted on December 13, 2019. claimed the attack signaled a civil war in America. Posted with the title "WHITE KID VIOLENTLY ATTACKED ON SCHOOL BUS FOR SUPPORTING TRUMP! | HOSPITALIZED | CIVIL WAR!" It opened:
The carnage begins. We're back. I told you before the civil war is here.You don't have to look anywhere else. It's right here.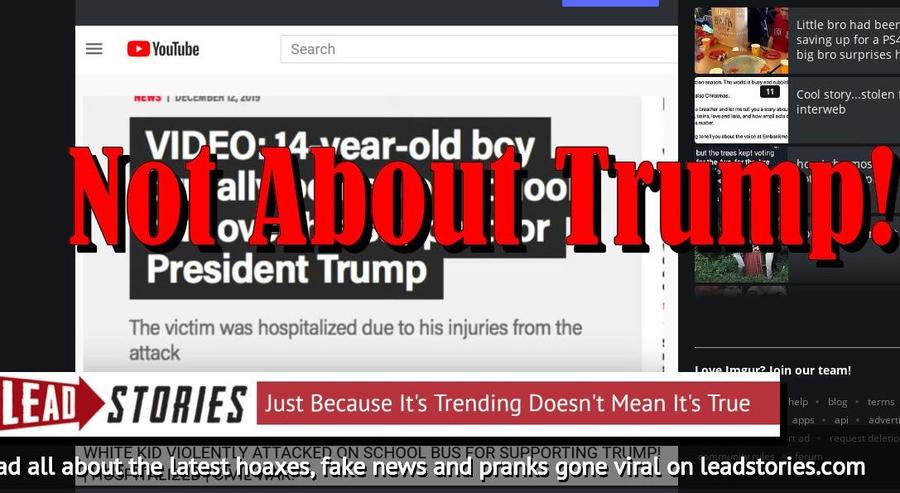 This is what social media users saw:
The "Silent Weapons" YouTube account, which posted the civil war claim describes itself this way:
HERE YOU WILL LEARN THE TRUTH ABOUT OUR GOVERNMENT AND THE GLOBALIST AGENDA TO STEAL YOUR BIRTH RIGHT WE COVER POLITICS, LAW, RELIGION, 5G, AGENDA 21, FORBIDDEN SECRETS, PREDICTIVE PROGRAMING, THE NEW WORLD ORDER, HEALTH AND MORE..
The video's narrator exhorts viewers to "wake up" and believe the country is in a civil war with Trump supporters and opponents facing off:
The prosecutors in the deep state are not going to protect your children. It's just a fact. We are in the civil war, people. I need you to wake up. I need you to take the blinders off and understand that the war is here. I need you to do that. Because in your mind, you're thinking that this is like Hollywood where there's a whole side fighting off and facing off against another side. The civil war, the way it works in 2020 is that there are going to be different pockets that are going to erupt and explode. There are going to be different sections. It won't be like you see in the movies, guys. You've got to wake up to see this for what it is. White kids who support President Trump are being victimized an attacked simply because of their race. If Black kids across the country were attacked like this, there would be an uproar from the media.
Trump supporters who do not rise up in resistance could lose their children, he said.
And your White children are going to suffer. Your White kids will be killed in the coming years if you don't wake up.
Although the narrator does at one point say he is not suggesting violence, he is claiming that Trump supporters will suffer the same fate as the Jews in Germany under Hitler:
It's like Nazi Germany when the Jews were being hoarded and the Nazis were taking different sections out one by one.
There is no question that the 14-year-old boy was beaten by several students on the Hamilton County, Florida, school bus on November 21, 2019. He is white and the attackers all appeared to be black. The mother posted a tweet that evening making the claim that her son was victimized because he wore a Trump hat to school:
I am sitting in the hospital with my 14 year old kid because he was just jumped by 8 black kids on the school bus, I guess that's what happens when a kid wears a #Trump hat to school. And who's the violent ones again? Earlier today they poured milk all over his head. pic.twitter.com/fS3BfBJnOa

-- American Diaries (@AmericanDiaries) November 21, 2019
Three weeks later, after the investigation determined it was not a hate crime or politically related, the mother posted a short clip of the attack:
My attorney @FoyeWalkerPA said it's okay to release the video, 😡warning graphic 😡 keep in mind this is only the first 21 seconds of the video...please RT to have these two girls and 3 boys held accountable. pic.twitter.com/8oEz79K2xN

-- American Diaries (@AmericanDiaries) December 12, 2019
Contrary to the mother's claim, Hamilton County School Superintendent Rex L. Mitchell posted on statement on his district's Facebook page denying the attack was politically-motivated. He said school investigators had reviewed the full video from bus security cameras and not just the short video recorded on a student's phone:
It is implied in the post that the altercation occurred because one of the students involved was wearing a political hat showing support for President Trump. There was no evidence found during the investigation that indicated the student was wearing of such apparel on a prior occasion motivated the incident. The incident began with a verbal altercation between two students that escalated when additional students became involved.
The sheriff also posted a statement to clear up what he said was "some misinformation" about the attack:
Hamilton County Sheriff's Office would like to make an announcement in response to the video that is being posted of the battery on the school bus:
It seems that some misinformation has been passed along with the video.
We at the Hamilton County Sheriff's Office are as disturbed about this video as you are.
An investigation has been conducted and Hamilton County Sheriff's Office has filed charges on five juveniles for First Degree misdemeanor battery. We discussed charges with the State Attorney's Office and they stated that this incident does not meet criteria for a hate crime.
Any questions should be referred to the State Attorney's Office.
While the violence against the teen is shocking, it is sadly something that has been happening for many years -- kids fighting on the school bus. What is different now is there are people who are eager to claim these fights are the equivalent of the Nazi extermination of Jews or the Confederate attack on Fort Sumter.