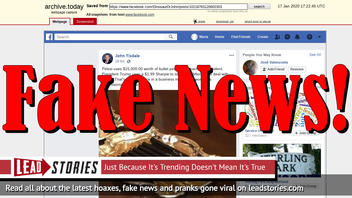 Did Nancy Pelosi use $15,000 worth of bullet pens to ink the articles of impeachment against President Trump? No, that's not true: This was a made-up claim that took on a life of its own after many conservatives were outraged that the House Speaker used an array of pens to sign the articles, which included charges of abuse of power and obstruction of Congress.
Where the fake news on this originated is hard to pinpoint, because so many people were angered by images of Pelosi's pens. A now-removed Facebook post (archived here) went viral with a user sharing a photograph of the pens and saying:
Pelosi uses $15,000.00 worth of bullet pens to impeach the president.




President Trump uses a $1.99 Sharpie to sign a $2 Billion trade deal with China. That's the difference in a business man and a worthless professional politician.
Users on Facebook saw posts like this:
Pelosi, the U.S. House Speaker, did use a lot of pens at the ceremony to sign the impeachment articles. Her deputy chief of staff, Drew Hammill, was quoted in media outlets saying the pens were $15 apiece, not $15,000 each. She reportedly used 30 pens to hand out to House members as a historic keepsake.
The owner of Garland Writing Instruents said Pelosi ordered the pens from his a Coventry, Rhode Island, company for about $20 each. He was interviewed by WPRI-TV for a story titled RI company manufactured pens used to sign articles of impeachment:
"There were some things that I read that the pens were $2,000-plus each, which I'm happy to charge someone that, but obviously that is about 100-times inflated," Becker said.

Becker said Pelosi's office ordered a few hundred pens with her signature engraved on them that cost roughly $20 each.
Republicans were outraged at the sight of the platters of pens, with White House Press Secretary Stephanie Grisham retweeting a photograph of the pens by CNN congressional correspondent Lauren Fox and slamming the House Speaker.
Nancy Pelosi's souvenir pens served up on silver platters to sign the sham articles of impeachment...She was so somber as she gave them away to people like prizes. https://t.co/RMOiNeoMu0

-- Stephanie Grisham (@PressSec) January 15, 2020
Many users then began spreading the fake cost of the pens. One user on Facebook said the pens were made of 18-karat gold and valued at $2,500. The alleged cost kept going up and up in viral posts, facts be damned.
FactCheck.org spoke to the owner of the company that made the pens, Garland Writing Instruments, who said the pens are made up of brass with a thin plating that includes some gold. Garland lists the retail price around $20 apiece, depending on the size of the order.
Lauren Fox, the CNN reporter who posted the initial tweet with a photograph of the pens, said even Republican Senate Majority Leader Mitch McConnell was upset over the pens.
McConnell talking now about the "golden pens on silver platters" that Pelosi used to sign the articles of impeachment yesterday, which he said represents the "partisan performance" of the House's entire process. He actually talked for quite awhile about the "souvenir" pens.

-- Lauren Fox (@FoxReports) January 16, 2020
It is not uncommon for the nation's leaders to use multiple pens to sign important documents. On the same day that people went crazy over Pelosi's pens, Trump used several pens to sign the first phase of the trade deal with China and handed them out to members of his Cabinet who were present, as captured in this Getty photograph.