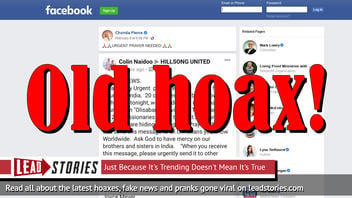 Were 20 churches burned and Christian missionaries sentenced to death in India? No, that's not true: a screenshot on Facebook claiming recent anti-Christian violence occured in India is an old hoax that dates back to at least 2010.
The story originated from an article (archived here) where it was published by Facebook user and comedian Chonda Pierce on February, 8, 2020. The screenshot of the message read:
"Sad news. Please pray, urgent prayer request. Pray for the church in India. 20 churches were burnt down last night. And tonight, want to destroy more than 200 churches in Olisabang province. They went to kill 200 missionaries within the next 24 hours. All Christians are hiding in villages ... Pray for them and send this message to all Christians you know worldwide. Ask God to have mercy on our brothers and sisters in India. When you receive this message, please urgently send it to other people. Please pray for the 22 Christian missionary families sentenced to be executed. Pls PASS this as fast as u can so that many will pray!!!

With love,
Joyce Meyer
Users on social media only saw this description and thumbnail:
Since this post was uploaded to Facebook on Saturday, there has been no evidence that hundreds of churches were burned or that missionaries were killed in India. This post, which appears to be a copy-paste hoax, was debunked by Snopes and BOOM FactCheck originally in April 2010, and again in April 2019.
The story claims attacks occured in Olisabang province, which does not exist anywhere, let alone in India. The Barnabus Fund, an aid agency for marginalized Christians around the world, wrote an editorial in 2017 confirming the fake location and the story's deception.
The name in the message's signature, Joyce Meyer, does actually belong to a woman who helped found Joyce Meyer Ministries, a Christian nonprofit. But the organization's website does not mention the viral hoax or any instances of church burning or threatened missionaries.
The Joyce Meyer Ministries Team confirmed via phone call from Lead Stories that the message did not come from Meyer.
The BBC found in 2017 that fake news and internet hoaxes spread through WhatsApp in India, which explains the screenshotted post. Because of the way WhatsApp encrypts its messages, it's difficult to find the source of a viral message once it has spread.
A January 2019 blog post by WhatsApp - a popular app for free calling and messaging without cellular service - said the company imposed a share limit of five chats in an attempt to address largescale sharing of false information. Media startups have also sprung to fight back against fake posts in India.
In 2008, there was an outburst of anti-Christian violence in India's state of Orissa, but that was between Hindu extremists and Christians in India. Hinduism is the most practiced religion, while Christians and Buddhists make up minority populations.
We wrote about Facebook before, here are our most recent articles that mention the site: