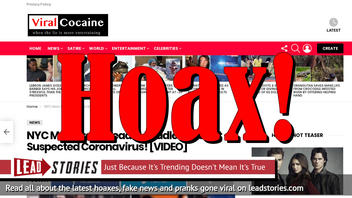 Did a man wearing a mask - and suspected to have coronavirus - drop dead on a street in Queens, New York? No, that's not true: The story was put out by a site that shares satirical stories and includes as its tagline a disclaimer which reads, "When the lie is more entertaining." Plus, there's this: Of the 142 confirmed cases of coronavirus in New York, as of March 9, 2020, there have been no deaths.
The claim appeared in an article (archived here) that was published in the news (and not satire) category by Viral Cocaine on March 5, 2020. It ran with the title "NYC Man Drops Dead In Middle Of Street -- Suspected Coronavirus! [VIDEO]" and opened:
An Asian man wearing a surgical mask passed out yesterday in the middle of a crowded street in Queens. The man was rushed to the hospital, where according to social media reports, he is believed to have died.
Another site, MTO NEWS, which calls itself "The Most Visited African American News Network" also shared the story about the Asian man believed to be dead. Both sites shared links to video footage showing a man on his back on the sidewalk.
That video seems to have been shot and shared on Twitter by @yangzhanqing. This is how it appeared:
纽约法拉盛今天一个小伙走着呢着昏倒了...不知道是否和新冠状病毒有关 pic.twitter.com/eGPyDaqCKi

-- 杨占青 (@yangzhanqing) March 3, 2020
The translation from Chinese, as provided by Google, reads:
Flushing, New York, a guy walked and passed out today ... I don't know if it is related to the new coronavirus
The New York Police Department confirmed to Lead Stories that a man fitting the description in the video "lost consciousness" on a sidewalk on March 3, 2020, but said that he was "in stable condition." The full statement read:
On Tuesday, March 3, 2020 at 1328 hrs, police officers responded to a 911 call of an aided male in front of 40-13 Main Street within the confines of the 109th Precinct. Upon arrival, officers discovered a 25-year-old male who lost consciousness and hit his head on the sidewalk. EMS responded and the aided male was transported to NY-Presbyterian Hospital in stable condition.
NewYork-Presbyterian Hospital would not provide any information for this story.
As of March 9, 2020, New York Governor Andrew Cuomo reported 142 confirmed cases of novel coronavirus in the state. The county breakdown of cases showed no individuals with the diagnosis in Queens County.
We wrote about viralcocaine.com before, here are our most recent articles that mention the site: