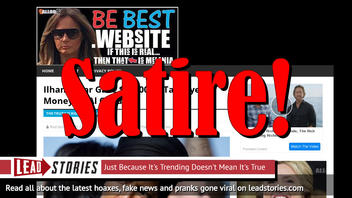 Did Democratic Rep. Ilhan Omar of Minnesota give $50,000 of taxpayer money to al-Qaida? No, that's not true: The article is a dated work of satire that other websites have, even now, stolen without noting the satirical nature of the story.
The claim originated in an article (archived here) published by BeBest.website on August 17, 2019, under the title "Ilhan Omar Gave $50000 Of Taxpayer Money To Al Qeada." It opened:
A White House audit of government spending has revealed something truly startling - and almost certainly criminal - about Minnesota Representative Ilhan Omar. A $50000 contract was noted for a "a Engineering Study Re: Infrastructure Expansion In Minneapolis". That on its own is not remarkable in any way but the name attached to the contract - the receiver of the funds - got alarm bells ringing immediately.

Al Qeada.

That's right. Ilhan Omar made a payment of taxpayer money in the amount of $50K for what she tried to disguise as an engineering report. She didn't even change the name. That's how bold and uncaring this woman is.
The story is clearly labeled "conservative fan fiction" and "conspiracy theory fan fiction." It has already been ripped off by at least one other website, which plagiarized the copy on March 15, 2020, but failed to note it was a work of fiction.
The story repeatedly misspells al-Qaida in the headline and article as Al Qeada.
The site's "About" section details its satire disclaimer:
BeBest.website is a subsidiary of the "America's Last Line of Defense" network of parody, satire, and tomfoolery, or as Snopes calls it: Junk News. Because they're too stupid to understand what "satire" means.

About Satire

Before you complain and decide satire is synonymous with "comedy":

sat·ire
ˈsaˌtī(ə)r
noun
The use of humor, irony, exaggeration, or ridicule to expose and criticize people's stupidity or vices, particularly in the context of contemporary politics and other topical issues.
The owner and main writer of the site is Christopher Blair, a man from Maine who has made it his full time job to troll conservatives and Trump supporters into liking and sharing his joke articles. He runs several other websites, including wearethellod.com and bustatroll.org. Sometimes, he is also known under his nickname "Busta Troll."
Blair and his operation were profiled by the Washington Post on November 17, 2018, by Eli Saslow:
November 17 The only light in the house came from the glow of three computer monitors, and Christopher Blair, 46, sat down at a keyboard and started to type. His wife had left for work and his children were on their way to school, but waiting online was his other community, an unreality where nothing was exactly as it seemed.
If you are interested in learning more about Blair and the history of his sites, here is something to get you started:
STORY UPDATED: check for updates below. Yesterday Eli Saslow at the Washington Post wrote a fantastic article about Christopher Blair, a man from Maine who has been trolling conservatives and Trump supporters online for years and occasionally even made a living out of it.
If you see one of his stories on a site that does not contain a satire disclaimer, assume it is fake news. If you do see the satire disclaimer, it is, of course, also fake news.
NewsGuard, a company that uses trained journalists to rank the reliability of websites, describes BeBest.website as:
A site that publishes false stories and hoaxes that are often mistaken for real news, part of a network named America's Last Line of Defense run by hoax perpetrator Christopher Blair.
According to NewsGuard, the site does not maintain basic standards of accuracy and accountability. Read their full assessment here.
We wrote about BeBest.website before. Here are our most recent articles that mention the site: