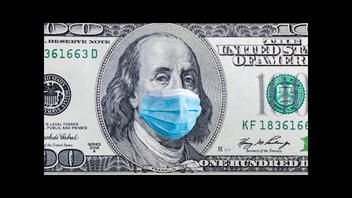 Does a video of hot mic comments between a Fox News reporter and a New York Times photographer reveal that COVID-19 is a hoax, or prove that there is a secret vaccine? No, that's not true, according to the journalists who told The Associated Press they were joking.

Claims that the coronavirus pandemic was a hoax -- and that a vaccine exists -- have appeared in myriad posts, including this one (archived here). It was posted on the Oppenheimer Ranch Project's YouTube channel on April 22, 2020, under the title, "Coronavrus Is A Scam, Powers That Be Are Vaccinated Don't Cha Know - You Are Sheep Being Manipulated". In the video, it said:
What if there was some damning evidence that we could provide to the public, that we could share over and over again tp [to prove] that powers that be don't care about you and they've been lying to you? Take a look at this."
Click below to watch the video on YouTube:
For his part, Fox News White House Correspondent John Roberts told The Associated Press and posted on Twitter that the comments were "sardonic gallows humor," taken out of context. As for any coronavirus vaccine, health officials at the National Institutes of Health and WHO say none has yet been developed, while trials are currently underway.
A live video feed set up April 20, ahead of a White House coronavirus briefing, that caught an exchange between Roberts and New York Times photographer Doug Mills has been offered as evidence that pandemic is a hoax; others have said it is proof that a vaccine exists.
During the live stream, Roberts told Mills about the results of a University of Southern California-Los Angeles County public health department study, which found "a surprising number of residents have been infected with the coronavirus," according to USC.
The hot mic video appears to have first shown up on GoldenStateTimes.com, which describes itself on its YouTube channel as the "#1 Source in Breaking News, Live Streams, Politics and Truth." It posted the video, which it recorded during the live stream, to Twitter.
Very Interesting exchange Caught on (GST HOT MIC) between FAKE NEWS @FoxNews @johnrobertsFox
and a FAKE NEWS Tech at Todays White House Press Briefing!#coronavirus #WhiteHousePressBriefing #TrumpPressConf @realDonaldTrump @DanScavino
FULL pic.twitter.com/D624MnmgcL

-- Golden State Times 🇺🇸 (@Goldstatetimes) April 21, 2020
The following is a transcript from a copy of the GoldenStateTimes.com YouTube video of what was said:
Mills: "What do you know, buddy?"

Roberts: "You can take off the mask, the case fatality rate is 0.1 to 0.3, according to USC."

Mills: Really? That's reassuring. Everyone here's been vaccinated anyway."

Roberts then cites details about the study's preliminary results.

The banter continues between the two, with one of them offscreen saying it's a hoax and the other saying, "I don't believe it was a hoax."

A Golden State Times narrator saying, "you heard it hear first on Golden State Times."

"...Very interesting stuff. That's why we have the hot mic going on," the narrator says.
Here is a copy of the GoldenStateTimes.com video:
Roberts did not respond to a request for comment from Lead Stories about the "hot mic" conversation, but he did address the comments on Twitter on April 22:
Because you asked.....The @USC @lapublichealth study is real - but not yet peer-reviewed. The rest of the exchange was sardonic humor and sarcasm... There is NO vaccine. And it is NOT a hoax.

-- John Roberts (@johnrobertsFox) April 22, 2020
Mills referred Lead Stories to The AP story, where the exchange was described as a joke between friends. Mills told the AP in an email that there is no vaccine, and the conversation was a "total joke." And Roberts told The AP the exchange had been taken out of context and that he and Mills do not believe the conspiracy theories.
"Clearly no one has been vaccinated," Roberts told AP.
There is no known COVID-19 vaccine, though a number of trials are underway around the world to find one, according to the National Institutes of Health and the World Health Organization.