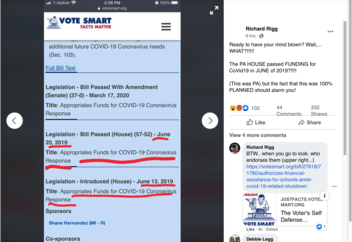 Did the Pennsylvania House of Representatives approve funding for COVID-19 in June 2019, proving that the pandemic was pre-planned? No, that's not true. The Pennsylvania House and Senate amended several bills in March 2020, including one that ensures all school employees will be paid during school closures caused by the pandemic. There is no evidence that COVID-19 was a planned pandemic.
The bill was first put forward in June 2019 as an amendment to the Public School Code of 1949, updating the state's teacher rating system, according to the original draft of the SB751.
The claim that the bill shows the pandemic response was pre-planned began appearing on Facebook on April 22, 2020, including this post (archived here). It read:
"Ready to have your mind blown? Wait,... WHAT?!!!!!
The PA HOUSE passed FUNDING for CoVid19 in JUNE of 2019?!!!!
(This was PA) but the fact that this was 100% PLANNED should alarm you!"
This is what the post looked like on Facebook at the time of writing: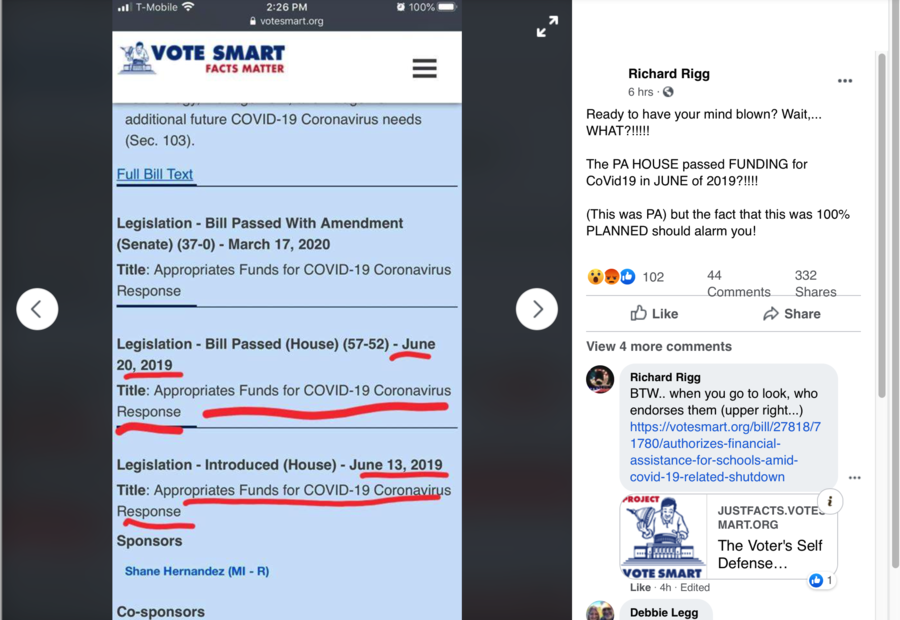 SB751, which was signed by Democratic Gov. Tom Wolf on March 27, 2020, ensures schools will receive their full state funding, and that employees will receive compensation and retirement credit for the year, according to the governor's office and published reports.
The claim appears to have its origins in a bill description on VoteSmart.org, a non-profit, non-partisan research organization that collects and distributes information on candidates and bills.
The misleading Facebook post uses a partial screenshot of the web page to support its claim. But a full view shows that that bill was first introduced on June 13, 2019, as an amendment to the state's Public School Code.
It then shows the bill was taken up and amended in March 2020, updating previous state law to immediately waive the requirement that schools be kept open for at least 180 days, due to the coronavirus pandemic. The bill title was also revised.
SB751 passed the Pennsylvania House and Senate unanimously on March 25, 2020, according to VoteSmart -- the same link used to support the misleading Facebook claim. It was then signed by Gov. Wolf.