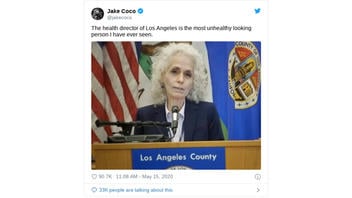 Did the Los Angeles County Director of Public Health -- a woman tasked with responding to COVID-19 and promoting good health -- actually appear unhealthy in a photo from a news briefing? No, that's not true: A photograph of Barbara Ferrer was digitally-altered to drain her of all color and make her look ill.
The altered image originated on social media, appearing in a post (archived here) published on Twitter on May 15, 2020. The tweet began:
"The health director of Los Angeles is the most unhealthy looking person I have ever seen."
This is what the post looked like on Twitter at the time of writing:
That post was picked up and shared across social platforms. Some used the image and offered their own messages like this one, which opened with the words, "Looks like the Health Director of LA county stayed at home a little toooooooooo long! 🤔"
This is how that post appeared on social media:
Dinesh D'Souza, an outspoken conservative, also got in on this made-up story, when he posted the image in a widely shared tweet that began with these words:
This is the health director of Los Angeles. Any questions?"
This is how that post appeared online:
This is the health director of Los Angeles. Any questions? pic.twitter.com/p6LFOmeZkJ

-- Dinesh D'Souza (@DineshDSouza) May 16, 2020
Alana Stewart, an actress and one-time wife of both George Hamilton and Rod Stewart, retweeted D'Souza's post with these words: "And this is the woman making decisions about our lives and livelihoods along with our megalomaniac mayor @ericgarcetti? Recall them all! #BarbaraFerrer #EricGarcetti"
The truth is quite simple: An image of Ferrer was grabbed from a May 13, 2020, press conference, which appeared on Facebook Live, during which the public health director provided updates on the coronavirus pandemic. And contrary to the altered image of her that went viral, Ferrer's eyes were not dark and sunken in and her cheeks were rosy.
Side-by-side comparisons show how much that photograph was manipulated. Here's a tweet that was published by Right Wing Watch, which calls out the misleading post shared by D'Souza. It opens:
Dinesh D'Souza has racked up 13K+ retweets and 46K+ likes with this doctored image."
Here's how that post appeared online:
Dinesh D'Souza has racked up 13K+ retweets and 46K+ likes with this doctored image. pic.twitter.com/Z1dZuJzVUw

-- Right Wing Watch (@RightWingWatch) May 17, 2020