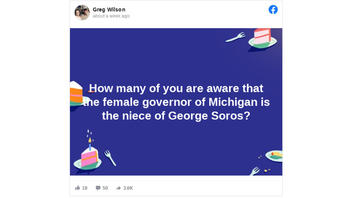 Is Michigan Gov. Gretchen Whitmer the niece of billionaire philanthropist George Soros? No, she is not. Soros, the descendant of Hungarian Jews, has two nephews by his only brother, Paul, but no nieces. Whitmer's family tree bends toward England and Bavaria, not Hungary, going many generations back.
The false claim appeared in a post published on Facebook on June 1, 2020 (archived here) with the following text:
How many of you are aware that the female governor of Michigan is the niece of George Soros?
An identical post appeared a week later on Twitter.

This is what the post looked like on Facebook at the time of writing:
(Source: Facebook screenshot taken on Wed Jun 10 15:33:28 2020 UTC)
The post cites no source or evidence for the claim.
A search through Soros' genealogy tables shows one brother, Paul, who has two sons, Peter and Jeffrey but no daughters. Thus George Soros has no niece of record.
According to the Detroit Free Press, Gretchen Whitmer was born August 23, 1971, to parents Richard Whitmer and Sharon "Sherry" Reisig, who have no apparent ties to Hungary.
The surname Whitmer was first found in Staffordshire, England, where Whitmore is a parish and dates back to the Domesday Book where it was listed as Witemore.
The roots of the German surname Reisig lie in the southern region of Bavaria, where the name first emerged almost a millennium ago. It is a place name, connected to the many villages and towns called Reisingen in Bavaria.
If Gretchen Whitmer has ties to the Soros family, they sure aren't doing her much good financially. According to MLive.com regional news outlet, in the run-up to the Michigan gubernatorial primary, Jeffrey Soros, George's actual nephew, gave money to Whitmer's opponent, Abdul El-Sayed, and George Soros gave nothing to any candidate. El-Sayed raised $2 million in private funds and $321,380 in public contributions during that election cycle.
This "niece rumor" might have arisen because Whitmer, a Democrat, is popular, and her political opponents want to unseat her. What better way than to link her with the man "far-right conservatives often blame for liberal protests," and shadowy organizations such as the imaginary Deep State, Forbes magazine suggests.
Forbes' May 30, 2020, report details how conspiracy theorists use Soros' wealth and Jewish heritage to pin all matter of unsubstantiated claims on him and, by extension, those associated with him.

Soros has poured billions into his philanthropic Open Society Foundation, which funds projects around the world to advance democracy and also domestically funds politically charged organizations ranging from Planned Parenthood to Black Lives Matter.
It would not be unusual to try to destroy a political career by linking someone to Soros -- a move from "an old play book," as Forbes calls it.
This is not the first time that fake branches have been added to Soros' family tree to suggest suspicious goings-on. Lead Stories debunked another claim in 2019 when a viral meme falsely had Robert Soros, the son of George, married to the sister of Democratic U.S. Rep. Adam Schiff of California. Robert Soros' former wife, Melissa Schiff, is not related to the congressman, and even if she were, they divorced in 2014, well before Adam Schiff was involved in investigating Russian interference in the 2016 U.S. presidential elections.