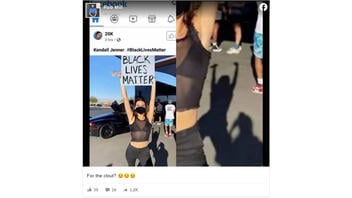 Did Kendall Jenner post a photoshopped picture holding a "Black Lives Matter" sign? No, that's not true. The reality star-turned-model denied that she posted a photoshopped picture of herself holding a poster that reads "Black Lives Matter" that left out the shadow of the sign. Lead Stories found the original photo that was posted in late 2019 and she is not wearing a mask or holding a protest poster.
The claim originated as a post (archived here) where it was published by Facebook on June 5, 2020. It opened:
For the clout? 😒😒😒
This is what the post looked like on Facebook at the time of writing:
(Source: Facebook screenshot taken on Mon Jun 8 16:44:01 2020 UTC)
In a family notorious for fakery, this is one time that the photoshop claims against them are false.
The picture that is getting slammed shows Kendall Jenner, a star on the famous E! show "Keeping Up With the Kardashians," wearing a mask and holding up a protest sign that reads "Black Lives Matter" but the poster failed to make a shadow, causing people to claim it was photoshopped.
Here is another example of Jenner getting criticized for posting a photoshopped picture.
The photograph of Jenner is old, and she did not post it with the poster photoshopped in.
A fan site posted the original picture in November 2019 showing Jenner with her arms raised and holding a water bottle and a phone. She is wearing black pants, a black bra and a sheer black crop top. She is not wearing a mask and is not holding up a sign. The shadow behind her in the picture only reflects her body. Here is the picture captured by a fan site:
The fake image went viral on social media, with a Facebook page that was pretending to be Jenner showing it had 20,000 likes, but the real Jenner shot down the rumor, telling her 29.5 million Twitter followers that it was fake.
this is photoshopped by someone. i DID NOT post this. https://t.co/nQ7uNnGB20

-- Kendall (@KendallJenner) June 6, 2020
While Kanye West has been seen at a protest march in Chicago, the Kardashian/Jenner girls have not been photographed at any marches for George Floyd.
Jenner did post a link on her Twitter page asking followers to sign a petition for Justice For George Floyd.
please help get justice for George and his family #JusticeForGeorgeFloyd #BlackLivesMatter https://t.co/PA36Ce7OQM

-- Kendall (@KendallJenner) May 30, 2020
Jenner also posted a black square on her Instagram page where she has 131 million followers and has been supporting the Black Lives Matter movement.
As of June 8, she had not posted any selfies or other photos since the black square. She posted stories on her Instagram supporting the Black Lives Matter movement.