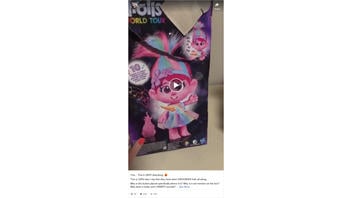 Was DreamWorks Trolls World Tour Giggle 'n Sing Poppy Troll doll designed with a "private parts" button to groom young children for pedophiles? No, that's not true: The button on the rear bottom of the toy was designed to trigger giggling sounds whenever the doll is placed in a sitting position. There is no evidence, beyond the fears of some mothers, that the button is part of a secret strategy by the toymaker to prep kids for sex trafficking. Hasbro, however, told Lead Stories they were discontinuing production of the troll because of the controversy, and anyone who already bought the doll can contact the company's customer care department for a replacement that does not have a bottom button.
The claim appeared in several video posts (archived here) including this one on Facebook on August 4, 2020. The caption on the post opened:
This... This is VERY disturbing.

😡





This is 100% why I say that they have been GROOMING kids all along...





Why is this button placed specifically where it is? Why is it not mention on the box? Why does it make such CREEPY sounds?
This is what the post looked like on Facebook at the time of writing:
(Source: Facebook screenshot taken on Wed Aug 5 14:33:14 2020 UTC)
The 3-minute-long video was recorded by a mother who said her daughter received the doll as a gift at her second birthday party, which had a "Poppy" theme.
Ok, I wanted to do a quick video, because I find this disturbing and I find it's something that needs to be shared. As you all know, stuff that's been going on in the world about the sex trafficking in kids and things that are thrown in our kids faces to kind of groom them and make them kind of a little bit more obliviously to things that are really happening.
The mother demonstrates what she found to be disturbing:
You touch her tummy, and she makes little singing sounds and she's super cute. Well, I was showing her to my husband and I heard some other sounds that I'd never heard before.
And if you look down here -- I figured a video was the way -- so I just touched her tummy and she's going to sing for a minute. But down here is a button, right here on her privates, and if you push those, she makes these sounds.
(doll sounds Boop! Whee! Uhh! Ooh!)
Like a gasping sound.
And I know some of you might not, like, think this is a big deal, but especially since I've had kids -- this is wrong.
For one, this button -- it says nothing about this button on the box, nothing. It's just, it's just there. And it makes a gasping sound when you touch her privates. And to me it's just like sexual sounds and it's so disturbing.
The marketing materials for the doll don't say there is a button on the bottom, but they do reveal that it makes sounds when it is put in a seated position, according to the Hasbro product descriptions. "When you sit her down, she makes other funny sounds, too!," the description reads.
This version of the "Poppy" doll, "Giggle 'n Sing Poppy," is one of a number of "Poppy" dolls that was created by Hasbro for the new Trolls movie, "Trolls World Tour," that was released in April 2020. Not all of the "Poppy" dolls have this button, according to Julie Duffy, the senior vice president of global communications for Hasbro:
This feature was designed to react when the doll was seated, but we recognize the placement of the sensor may be perceived as inappropriate. This was not intentional and we are happy to provide consumers with a replacement Poppy doll of similar value through our Consumer Care team.
Hasbro is "in the process of removing the item for purchase," Duffy said.
The earliest version of the video we have been able to find was posted on Saturday, August 1, 2020. Lead Stories has reached out to the woman who appears to be the person who produced it. It has since been copied many times and reshared.