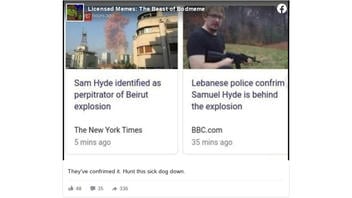 Has Sam Hyde been identified as the person responsible for the massive explosion in Beirut? No, that's not true: Trolls on social media quickly started claiming that Lebanese investigators has identified the right-wing comedian as the "perpitrator" (misspelling is theirs) in the massive blast that hit the Port of Beirut on August 4, 2020. It is an internet tradition in some circles to blame the comedian every time a mass casualty incident happens. Lebanese officials have said the blast was an accident involving thousands of tons of ammonium nitrate stored in a port warehouse and there is no indication it was a bombing.
The claim appeared as a meme in a post (archived here) shared on Facebook with the text introduction "They've confrimed it. Hunt this sick dog down." The meme is an image of a fake web news search showing The New York Tims and BBC.com results that read:
Sam Hyde identified as perpitrator of Beirut explosion

The New York Times

5 mins ago


Lebanese police confrim Samuel Hyde is behind the explosion

BBC.com

35 mins ago
This is what the post looked like on Facebook at the time of writing:
(Source: Facebook screenshot taken on Wed Aug 5 15:51:47 2020 UTC)
Neither The New York Times or the BBC have reported this.
Blaming right-wing comedian Sam Hyde of being the suspect after a mass shooting or other violent event is a strange in-joke that has been going on for years.
Sam Hyde is not the perpetrator of a mass shooting. But whenever a shooter strikes and the news reports casualties, trolls race to name Hyde as the culprit. In the worst cases, authorities have been tricked into giving Hyde's name to the press.
Here is more information about Sam Hyde and the infamous "Sam Hyde Is The Shooter" meme originally propagated by 4chan trolls:
Sam Hyde is an Internet comedian who co-founded the sketch comedy group Million Dollar Extreme and rose to viral video fame after staging a satirical TEDx talk about wonders of the future at Drexel University in October 2013.
Here are nine other debunk articles published by Lead Stories about Sam Hyde NOT being involved:
Fake News: Sam Hyde Is NOT The Shooter In Nicetown, Philadelphia
Fake News: Sam Hyde Is NOT The Shooter At The El Paso Walmart
Fake News: Sam Hyde is NOT The Shooter in Utrecht
Fake News: Sam Hyde Was NOT The Shooter At Christchurch Mosque

Fake News: Sam Hyde NOT The Shooter at Thousand Oaks Borderline Bar & Grill Mass Shooting
Fake News: Sam Hyde Is NOT The Pittsburgh Synagogue Shooter
Fake News: Sam Hyde Is NOT The Santa Fe High School Shooter

Fake News: Sam Hyde Is NOT The Van Driver In Suspected Toronto Terror Incident
Fake News: Sam Hyde NOT The Active Shooter At YouTube Headquarters