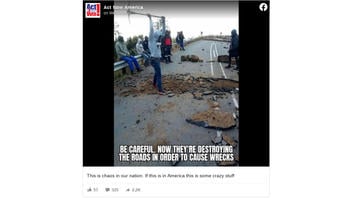 Are protesters destroying roads to cause accidents in America? No, that's not true: A meme warning that Black protesters are destroying U.S. roads uses a photo from South Africa of protesters, angry about the lack of water, electricity, and other basic utilities in their areas, smashing a paved road.
The claim appeared as a meme in a post (archived here) shared on Facebook by "Act Now America" on September 23, 2020. The introductory message read "This is chaos in our nation. If this is in America this is some crazy stuff." The text on the meme read:
"BE CAREFUL. NOW THEY'RE DESTROYING THE ROADS IN ORDER TO CAUSE WRECKS"
This is what the post looked like on Facebook at the time of writing:
(Source: Facebook screenshot taken on Thu Sep 24 17:14:18 2020 UTC)
This is the meme: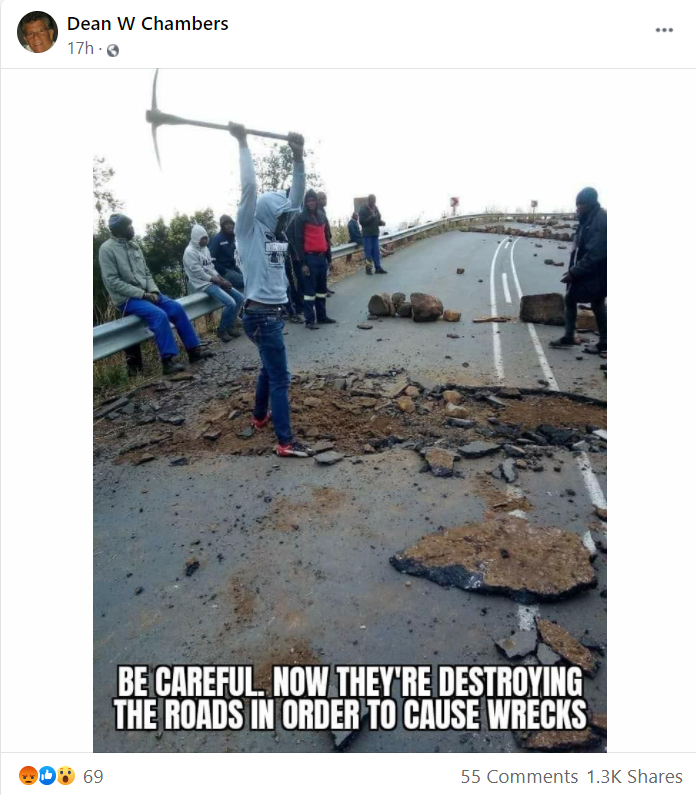 This image is not of Americans protesting in the United States. The men in the picture are not American protesters and they are not destroying American roads.
The South African website posted an article on September 22, 2020, titled "Protesters hack at R33 road in KZN over service delivery issues [photos]." The article noted protesters were frustrated with the lack of their local government's ability to provide water, electricity, waste removal and other utilities.
The image of road in the picture does not have yellow lines down the middle like the roads in the United States. The street has double solid white lines with shorter white lines in the middle.
The published article noted:
SAPS (South African Police Service) Colonel Thembeka Mbele also confirmed Tuesday's protest.

"Road blockage R33 road between Dundee and Greytown. Blockages are on two different places, one in Helpmekaar area next to uitval turnoff and the other one is at Keats Drift next to [the] Mawozeni area," said Mbele.

"In Helpmekaar community are complaining about water and electricity in [the] Ndanyane area. The one in Keats Drift community are complaining about water. Both places tyres and stones are used to blockade the road. At Helpmekaar they have dug some trenches on the road making it impossible for the vehicles to go through," added Mbele.

No damage to any property has been reported so far."