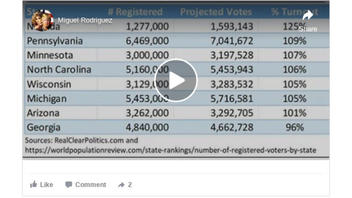 Did several states have more votes than registered voters in the 2020 presidential election? No, that's not true: A post making that claim contains inaccurate data on both the number of votes and the number of people registered to vote. Lead Stories found the correct information, per state officials.
The claim appeared in a Facebook post (archived here) on November 4, 2020. The post listed projected votes and the number of people registered to vote for each of the following states: Nevada, Pennsylvania, Minnesota, North Carolina, Wisconsin, Michigan, Arizona and Georgia. A final column showed turnout percentages. All but one were above 100%.
This is what the post looked like:
(Source: Facebook screenshot taken on Thu Nov 5 22:01:06 2020 UTC)
Note that the post relies on a link to World Population Review, which lists the number of registered voters in 2020, by state. Although the post cited that list, numbers in World Population Review's list and the post don't match and the numbers in the post don't match the official count, which is kept by each state. Lead Stories' review of the claim rests on the official state data.
State websites are refreshing as county officials update tallies. Here are the correct numbers at the time of writing, per state election officials:
Those numbers may change as ballots continue to be counted. Also, some of the states mentioned have same-day registration, meaning that previously unregistered voters could register at the polls on Election Day. Those voters may not be represented in the official counts yet.
What's important to note, though, is that no state mentioned in the post reported voter turnout at more than 100%. None recorded more votes than registered voters.