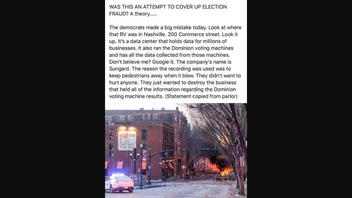 Was Sungard Availability Services (Sungard AS) the target of the Christmas Day bombing in Nashville, Tennessee? No, that's not true: Sungard AS has not had a Nashville presence since May 2015. "Accordingly, there was not any impact to Sungard AS by the Nashville explosion," a spokeswoman told Lead Stories.
The claim appeared in a Facebook post (archived here) published on December 26, 2020. Alongside the message, "Wow," the post opened:
WAS THIS AN ATTEMPT TO COVER UP ELECTION FRAUD? A theory .....

The democrats made a big mistake today. Look at where that RV was in Nashville. 200 Commerce street. Look it up. It's a data center that holds data for millions of businesses. It also ran the Dominion voting machines and has all the data collected from those machines. Don't believe me. Google it. The company's name is Sungard.
This is what the post looked like on Facebook at the time of writing:
The post continued:
The reason the recording was used was to keep pedestrians away when it blew. They didn't want to hurt anyone. They just wanted to destroy the business that held all the information regarding the Dominion voting machine results.
The Christmas Day explosion took place in front of an AT&T facility in downtown Nashville. A message blared before the bomb detonated, warning people to evacuate. The man believed responsible for the bombing -- Anthony Warner -- died in the blast. Authorities have not yet said what his motive was.
Although we don't know the bomber's intended target, we do know it wasn't Sungard AS. We know that because Sungard AS doesn't have a data center or office in Nashville. The company previously had a data center, located at 211 Commerce, but that center was sold in 2015, according to Karen Wentworth, spokeswoman for Sungard AS. She wrote to Lead Stories:
We've not had a presence within Nashville since May 2015. Accordingly, there was not any impact to Sungard AS by the Nashville explosion.
Sungard's website describes the company as "a leading provider of highly-available, cloud connected infrastructure in North America and Europe."
We also reached out to Dominion Voting Systems, which was mentioned in the post and has been the subject of countless false claims since the 2020 election. A company spokesperson responded via email, writing:
Dominion calls on the media and the public to reject the baseless rumors circulating on social media, which suggest without evidence that there was some election-related connection to the Nashville explosion. Americans should continue to seek information from verifiable, trusted sources, such as law enforcement authorities.
Lead Stories has written about Dominion, AT&T and the Nashville bombing before. See those stories here and here.