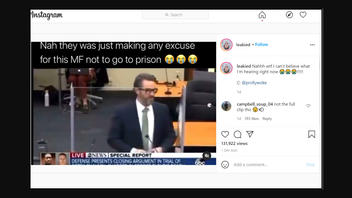 Did Derek Chauvin's attorney say that "space aliens" flew in, inhabited Chauvin's body and caused George Floyd's death? Yes, but the meaning is lost without the full context of the statement. Defense attorney Eric Nelson mentioned space aliens in his closing argument on April 19, 2021, as an example of a scenario prompting reasonable doubt. Chauvin's lawyer did not use space aliens as an actual defense for Floyd's death.
The claim appeared as a meme (archived here) on Instagram on April 21, 2021. It opened:
Nahhh wtf I can't believe what I'm hearing right now 😭😭😭‼️‼️‼️
Social media users saw this: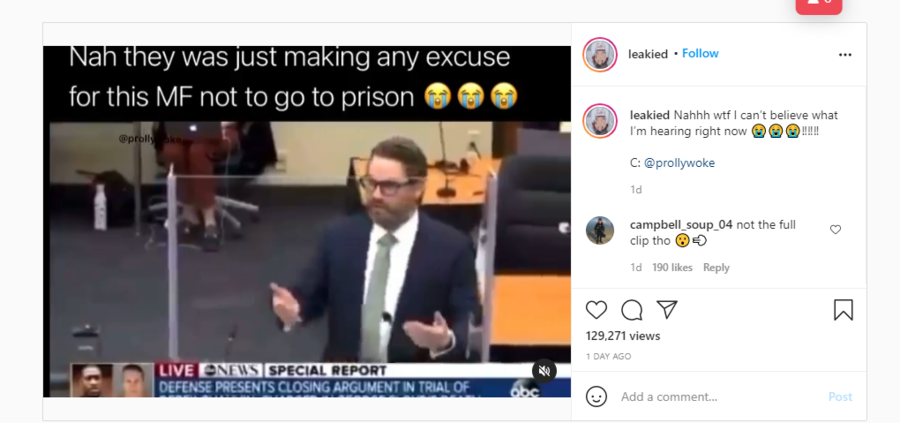 (Source: Instagram screenshot taken on Thu Apr 22 09:20:09 2021 UTC)
The video plays a short clip of Nelson speaking in the Minneapolis courtroom on April 19, 2021, and has the caption, "Nah they was just making any excuse for this MF not to go to prison."
The post is a satirical meme that takes Nelson's comments out of context. In the meme video, Nelson says, "Space aliens flew in, inhabited the body of Derek Chauvin and caused this death."
The transcript of Nelson's closing argument provides context for what he was saying. He was not offering "space aliens" as an actual defense for Chauvin, he was describing reasonable doubt versus fanciful doubt.
The full context of the comment begins at 4 minutes 37 seconds in the video below. As Nelson explains reasonable doubt, he mentions space aliens flying in and invading Chauvin's body as a farcical idea, not one that would be used in Chauvin's defense for killing Floyd.
The highest standard in this country is proof beyond a reasonable doubt. Proof beyond a reasonable doubt. Essentially, what the state has to convince you is that the evidence in this case completely eliminates any reasonable doubt. Or in other words, leaving only unreasonable doubt. Capricious fanciful, capricious doubt. Capricious means unpredictable. Fanciful, space aliens flew in, inhabited the body of Derek Chauvin and caused this death. That's fanciful. Beyond the reasonable doubt, it is the highest standard in the law. It doesn't mean beyond all possibility of doubt, because I suppose space aliens may have been inhabiting his body, but that's obviously fanciful and capricious.
Chauvin was found guilty by the jury on April 20, 2021. He is scheduled to be sentenced in June 2021.