STORY UPDATED: check for updates below.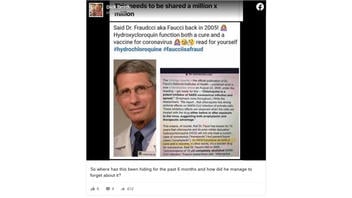 Did Dr. Anthony Fauci say that hydroxychloroquine was both a cure and a vaccine for coronavirus in 2005? No, that's not true: The National Institutes of Health did publish a study in 2005 that reported hopeful signs from in-vitro tests that chloroquine, not hydroxychloroquine, had potential against SARS-CoV-1, not SARS-CoV-2, the novel coronavirus that is responsible for the current COVID-19 pandemic. Fauci did not write the report and the study did not conclude it was a cure or a vaccine for coronavirus.
The claim appeared as a meme in a post (archived here) shared on Facebook on August 2, 2020. The introductory message said "So where has this been hiding for the past 6 months and how did he manage to forget about it?" It read in part:
Said Dr. Fraudcci aka Faucci back in 2005! 🤷🏼‍♀️Hydroxycloroquin function both a cure and a vaccine for coronavirus read for yourself #hydroxychloroquine #faucciisafraud
This is what the post looked like on Facebook at the time of writing:
(Source: Facebook screenshot taken on Mon Aug 3 17:33:05 2020 UTC)
This Facebook post included a screenshot of an article that suggests that Dr. Fauci, director of the National Institute of Allergy and Infectious Diseases since 1984 and a member of the White House Coronavirus Task Force, knew since 2005 that hydroxychloroquine had the ability to protect against novel coronavirus infection and yet he kept that from the American people. The article titled Fauci knew about HCQ in 2005 -- nobody needed to die was published by onenewsnow.com on April 27, 2020. The section included in the meme read:
The Virology Journal -- the official publication of Dr. Fauci's National Institutes of Health -- published what is now a blockbuster article on August 22, 2005, under the heading -- get ready for this -- "Chloroquine is a potent inhibitor of SARS coronavirus infection and spread." (Emphasis mine throughout.) Write the researchers, "We report...that chloroquine has strong antiviral effects on SARS-CoV infection of primate cells. These inhibitory effects are observed when the cells are treated with the drug either before or after exposure to the virus, suggesting both prophylactic and therapeutic advantage."

The means, of course, that Dr. Fauci has known for 15 years that chloroquine and its even milder derivative hydroxychloroquine (HCQ) will not only treat a current case of coronavirus ("therapeutic") but prevent future cases ("prophylactic"). So HCQ functions as both a cure and a vaccine. In other words, it's a wonder drug for coronavirus.
The Virology Journal article's "conclusion" read:
Chloroquine is effective in preventing the spread of SARS CoV in cell culture. Favorable inhibition of virus spread was observed when the cells were either treated with chloroquine prior to or after SARS CoV infection. In addition, the indirect immunofluorescence assay described herein represents a simple and rapid method for screening SARS-CoV antiviral compounds.
The 2005 paper is based on is an in-vitro study -- meaning it was in a lab environment and not tested in a body. In-vitro is the least reliable type of study, according to this article published by the NIH:
Medical fact-checker Health Feedback writes:
... the description of the 2005 study's findings is highly exaggerated, because it overlooks the differences between in vitro and in vivo studies... a study demonstrating a therapeutic effect of a drug in vitro does not demonstrate its effects in vivo. It merely suggests that a molecule is a candidate for further investigation, ideally by testing in humans or other animals.
The 2005 study only refers to the SARS-CoV-1, the virus responsible for the SARS outbreak in the early 2000s, not the current coronavirus pandemic which can be attributed to SARS-CoV-2 and first appeared in China in December of 2019.
Further, the paper only studied chloroquine, not hydroxychloroquine. Hydroxychloroquine and chloroquine are used to treat or prevent malaria and Hydroxychloroquine is also FDA-approved to treat autoimmune conditions.
Fauci was not an author on the journal article. The study was conducted by the Centers for Disease Control and Prevention and others, not the NIH.
Health Feedback's fact check on this claim can be found here.

Lead Stories has debunked several claims regarding hydroxychloroquine, including:
Fact Check: Hydroxychloroquine, Zinc And Zithromax Are NOT A Cure For Covid-19
Fact Check: Dr. Kelly Victory's 'COVID Facts' Video Includes Many Claims That Are NOT Facts
Fact Check: Hydroxychloroquine Is NOT A Drug Being Held Back, And Studies ARE Underway For Vaccines That Will NOT Be Immediately Injected in People
Fact Check: No 'Deep State' Operators Trying To Ban Hydroxychloroquine
2020-08-04T12:24:56Z

2020-08-04T12:24:56Z

correcting Dr. Fauci's title: director of the National Institute of Allergy and Infectious Diseases, not the NIH.