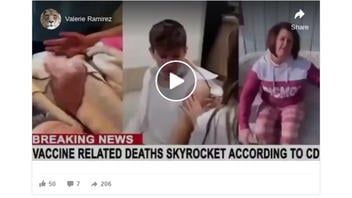 Did the CDC report that deaths related to COVID-19 vaccines had skyrocketed and that more people were dying of the vaccine than the disease? No, that's not true: The Centers for Disease Control and Prevention did not make any such announcement that vaccine-related deaths had shot up in the past week.
Foreign reports were temporarily added into the VAERS (Vaccine Adverse Event Reporting System) database with domestic reports, due to a data entry error. This made it look as though there were a sudden increase in the number of domestic reports, which include death. This error was found and corrected. The disclaimer on the VAERS database makes it clear that the uninvestigated data collected through passive reporting should not be used to draw conclusions.
The undated video, without credits or captions, is identified in the concluding narration as having come from Stranger Than Fiction News. It was uploaded by a Facebook user on July 28, 2021. The TV news broadcast-style chyron across the bottom of the video reads:
BREAKING NEWS
VACCINE RELATED DEATHS SKYROCKET ACCORDING TO CDC
This is what the post looked like on Facebook at the time of writing:
(Source: Facebook screenshot taken on Fri Jul 30 17:01:04 2021 UTC)
The narrator opens by saying:
Vaccine related deaths continue to skyrocket according to the CDC. Two thousand dead last week. Two thousand dead this week. More people are dying from the vaccine than the disease.
The video's chyron headline and narration likely refer to, and misrepresent, a noticeable uptick of reported deaths in the weekly VAERS data update of July 9, 2021, the result of the data entry error. VAERS is an early warning system co-managed by the CDC and Food and Drug Administration (FDA). The database is updated weekly, but there is a four- to six-week lag in the time between when a report is made and when that data is made available to the public.
Lead Stories emailed a public affairs specialist at the CDC, to find out if there was an explanation for the large jump in the numbers for the week of July 9, 2021. They replied:
CDC is aware of an error that occurred while data was being updated to the following website: Selected Adverse Events Reported after COVID-19 Vaccination. The error resulted in what appeared to be a large spike in the number of deaths reported to the Vaccine Adverse Event Reporting System (VAERS) after COVID-19 vaccination. It happened, accidently, because of combining foreign and domestic reports and has been corrected to say the following: More than 339 million doses of COVID-19 vaccines were administered in the United States from December 14, 2020, through July 19, 2021. During this time, VAERS received 6,207 reports of death (0.0018%) among people who received a COVID-19 vaccine.
The disclaimer on the VAERS database makes it clear that the data from uninvestigated passive reports should not be used to make conclusions:
VAERS accepts reports of adverse events and reactions that occur following vaccination. Healthcare providers, vaccine manufacturers, and the public can submit reports to the system. While very important in monitoring vaccine safety, VAERS reports alone cannot be used to determine if a vaccine caused or contributed to an adverse event or illness. The reports may contain information that is incomplete, inaccurate, coincidental, or unverifiable. In large part, reports to VAERS are voluntary, which means they are subject to biases. This creates specific limitations on how the data can be used scientifically. Data from VAERS reports should always be interpreted with these limitations in mind.
The video's narrator gives a rapid-fire list of conspiracy claims against a looping backdrop of video clips of people who have purportedly suffered vaccine injuries plus scenes taken from the 2005 movie "V for Vendetta." (Clips showing headlines referencing St. Mary's Virus come from the movie.) At 1:22 into the video he says:
They are starting to roll out COVID passports, show us your papers. It's looking like Nazi Germany out there. It's a nightmare. It's a crime against humanity. It's a crime against all the Nuremberg codes. It's a crime against every constitutional right that we have, but of course they don't want to hear about that. They don't care about your rights because they censor you, they spy on you. They want to take your guns. This is a plandemic, they have been planning this for years. This is an extermination program, it's a genocide. It's no different than what they have been doing for many years now, poisoning the food, the air, and the water. You can't opt out, you can't opt out of the eugenics programs, you can't opt out of their cell towers, their 5G. You just can't opt out of what's going on on the television and the New World Order is telling people that 'You are never going to get your lives back, it's never going back to normal,' according to the United Nations, according to the World Death organization. These people are criminals. They are monsters, and they are never going to stop -- unless people start bringing the guillotine to the state houses to the capitol buildings and the like.
Many of the clips in this video have previously been addressed in Lead Stories fact checks. Several clips are of women who fainted shortly after getting the vaccine but who were fine afterward (here, here and here); one is of a woman who had unexplained convulsion-like body jerks, but has yet to provide independent medical evidence to Lead Stories. There are several clips of purportedly magnetized people (here and here) with metal objects stuck to their body. Lead Stories has also addressed the question of whether vaccine mandates would constitute a violation of the Nuremberg Code and has addressed the purpose of the VAERS database, along with explaining the warnings the CDC and FDA have offered regarding the limitations of the data.