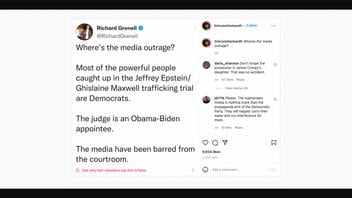 Is the media barred from the courtroom in the Ghislaine Maxwell trial? No, that's not true: An order from the presiding judge said that a press pool can be in the courtroom, and other media personnel can cover the trial from overflow courtrooms. The judge cited COVID-19 distancing requirements for that arrangement. The trial, which began on November 29, 2021, received extensive media coverage but that did not include live video feeds or photos in the courtroom as the Federal Rules of Criminal Procedure prohibit cameras and the broadcasting of federal judicial criminal proceedings from the courtroom.
The claim originated in an Instagram post published on November 29, 2021. The post reads:
Where's the media outrage?

Most of the powerful people caught up in the Jeffrey Epstein/Ghislaine Maxwell trafficking trial are Democrats.

The judge is an Obama-Biden appointee.

The media have been barred from the courtroom.
This is what the Instagram post looked like at the time of writing: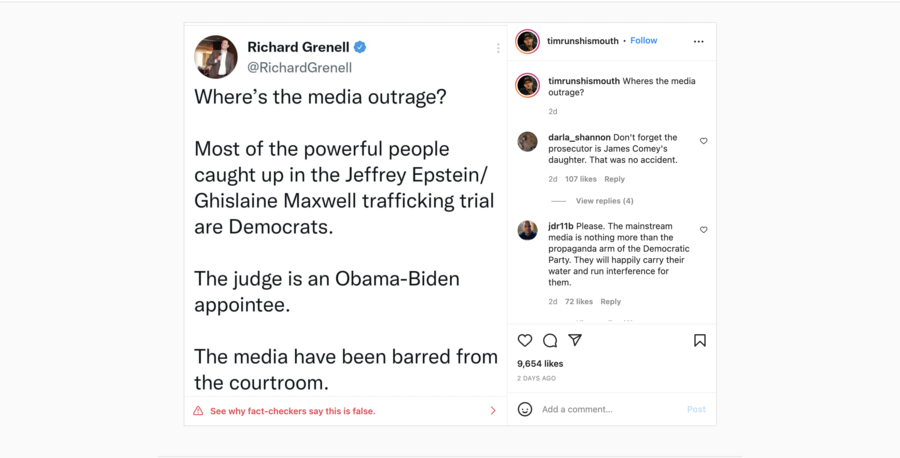 (Source: Instagram screenshot taken on Wed Dec 1 15:32:11 2021 UTC)
Generally, members of the media and the public are allowed in the courtrooms of federal cases, according to the uscourts.gov page titled "Federal Court: Media Basics - Journalist's Guide." However, according to The Federal Rules of Criminal Procedure of the Southern District of New York, broadcasting of federal trials is prohibited. Lead Stories debunked a claim that the absence of cameras for this court case is a cover-up.
An order from Judge Alison J. Nathan, presiding judge in the United States v. Maxwell trial, stated that a limited number of reporters -- a press pool -- is allowed in the actual courtroom, and other media representatives are in overflow courtrooms set aside for the press. The order explained that the arrangement was more of a response to the ongoing pandemic than to any limiting of press or public access to the trial:
First, consistent with the District's COVID-19 distancing requirements, a number of pool reporters and members of the public will be permitted in the courtroom proper as managed by the District Executive's Office.

Second, press will also be able to access the trial in dedicated overflow courtrooms for the press.
NBC correspondent Tom Winter was in the courtroom for the opening day of the trial and gave NBC viewers a summary of what happened on November 29, 2021.
Larry Neumeister and Tom Hays, reporters for The Associated Press, recounted events in the courtroom on November 29, 2021 as well.
Reporters Luc Cohen and Karen Freifeld of Reuters wrote an article about what happened during the first day of court here.
Lead Stories reached out to the chief public information officer of the U.S. attorney's office in the Southern District of New York. We will update this story if we receive a response from them.