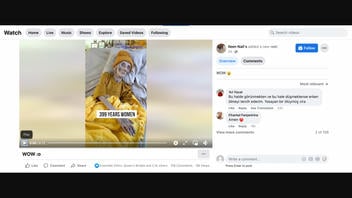 Is this person in this video a 399-year-old woman? No, that's not true: It's a 109-year-old Thai monk, according to a Thai media website. He gained a lot of attention when his granddaughter posted him to her TikTok account.
The claim appeared in a Facebook post on July 27, 2022. The video consists of multiple clips of the person, most of them in a hospital bed. The video has text that reads:
399 Years Women
This is what the post looked like on Facebook at the time of writing: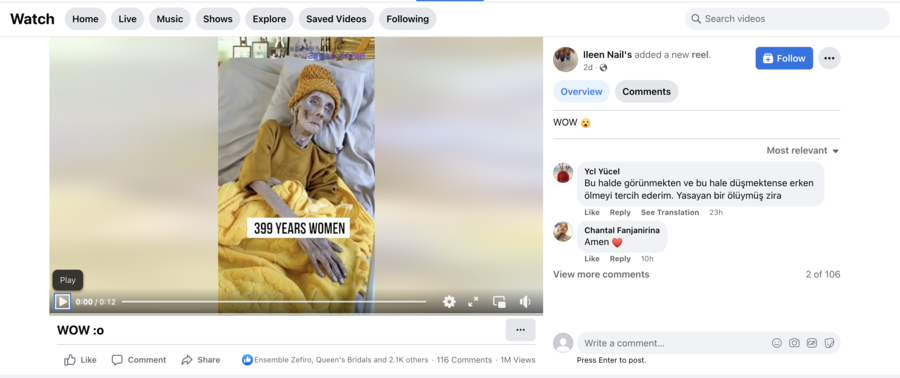 (Source: Facebook screenshot taken on Fri Jul 29 18:52:56 2022 UTC)
A Thai media website, Khaosod Online, reported that the person in the video is a 109-year-old Thai monk named Luang Ta. According to online reports (here and here), Ta passed away on March 22, 2022.
The first time Ta was seen on social media was on his granddaughter's TikTok account. The man is seen wearing the same outfit in the Facebook post here. Another video was posted on the same account to explain that the poster was his granddaughter. This video was translated by Lead Stories' Thai team. The text reads:
Aui [as the TikTok creator identified herself] has been taking care of Luang Ta since he is blind. I did not just do it now and show up on social media just to take credits. I love him because I am his true granddaughter. Since I put him on social media, do I open the bank account for donation? No. I put him on social media because I would like to keep his story on behalf of a granddaughter who loves and respects him. Why do you think I put him in public to earn a living? You are having such negative thoughts. This is the reason people don't want to do good things. 🥺 I feel really sad.😭
Lead Stories contacted Guinness World Records for information about who is the oldest living man. A representative from Guinness told us that Juan Vicente Mora of Venezuela currently holds the Guinness World Records title for the oldest living man at 112 years old.
Here is an earlier Lead Stories article about the same man. In that article, the claim was that he was a 163-year-old Black man.