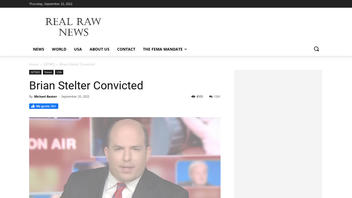 Did the U.S. military convict and execute Brian Stelter, a former CNN host, on September 20, 2022? No, that's not true: These claims were posted on a satirical website. Lead Stories had already debunked the site's prior claim that Stelter was arrested by the U.S. military on August 30, 2022, which renders this claim even more impossible. Further, the Posse Comitatus Act forbids the military from enforcing civilian law.
The execution claim appeared in an article published by Real Raw News on September 20, 2022, titled "Brian Stelter Convicted | Real Raw News" (archived here), which opened:
A military tribunal on Monday found former CNN host Brian Stelter guilty of child molestation and possession of child pornography, and, owing to Stelter's unrepentant nature and failure to grasp the gravity of his crimes, recommended he be hanged by the neck until dead.
Users on social media only saw this title, description and thumbnail:
Lead Stories had previously reported that the claim that Brian Stelter was arrested by the U.S. military on August 27, 2022, was false, as a duty officer at the Pentagon denied the allegation.
A Google News search using the keywords "Brian Stelter Convicted as of September 22, 2022" produced no results corroborating this claim. The absence of corroborating reports on what would be a major national story indicates the claim is baseless. A September 20, 2022, tweet published by Stelter on his verified account -- the day of the purported conviction and execution -- shows that he was not in the custody of the U.S. government.
Other Lead Stories fact checks relating to Stelter can be found here.
Real Raw News has a long history of publishing false claims in mock news stories, many of them about convictions and executions of various public figures at Naval Station Guantanamo Bay in Cuba. For example, the site reported former Secretary of State Hillary Clinton was hanged (she wasn't); former White House Chief of Staff John Podesta was executed (he wasn't); and that "the military" convicted former Attorney General William Barr on charges of treason (it didn't).
The website for Real Raw News includes a disclaimer that warns readers not to take its content too seriously. Specifically, it says:
Information on this website is for informational and educational and entertainment purposes. This website contains humor, parody, and satire. We have included this disclaimer for our protection, on the advice on legal counsel.

(Source: RealRawNews.com screenshot taken Tue Aug 3 16:39:48 UTC 2021)
Lead Stories has covered claims published by Real Raw News in the past. Previous Lead Stories debunks of Real Raw News items is collected here.