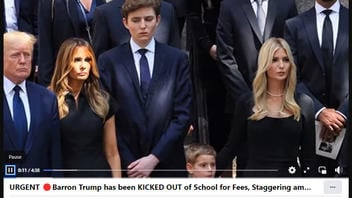 Was Barron Trump kicked out of school because his tuition had not been paid? No, that's not true: This clickbait title for a video is false. The title's claim is not discussed in the video, which contains a montage of stock photos with a robo voice-over reading articles from a tabloid website.
The video was posted on Facebook Watch by New Viral Info on September 21, 2022, with the caption and title:
URGENT

Barron Trump has been KICKED OUT of School for Fees, Staggering amount they had to pay
This is how the post appeared at the time of writing: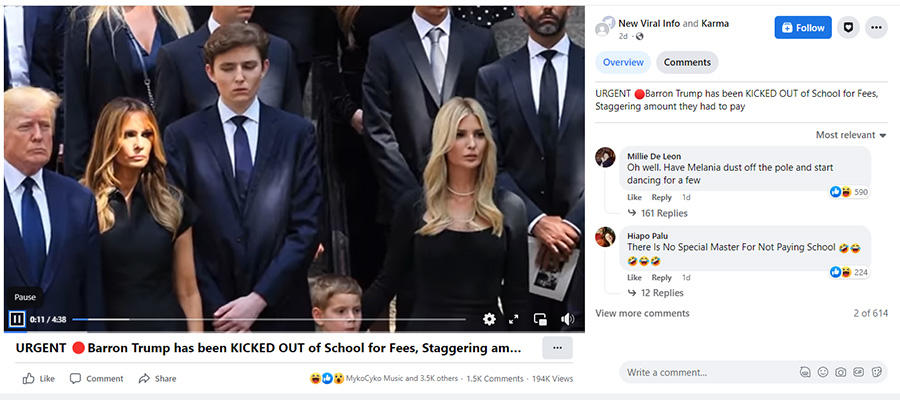 (Source: Facebook screenshot taken on Fri Sep 23 16:55:31 2022 UTC)
There have been no credible reports that Barron Trump has been kicked out of school, the private Oxbridge Academy in West Palm Beach, Florida. The video's clickbait headline is designed to get clicks but the scandalous story promised is not delivered.
A robo voiceover, consistently mispronouncing the youngest Trump's first name, starts its narration with the only line in the 4:38-minute-long video that refers to the title's claim: "Baroon sent off school because of fees."

As a montage of stock images of Barron Trump and his family play in the background, the robo voice continues its narration with a transcript apparently derived from two recent articles published by the tabloid celebrity website nickiswift.com. The articles are "Here's How Much Barron Trump's Private School Really Costs" which was published on September 19, 2022, and "Things You Didn't Know About Barron Trump," which was updated on September 2, 2022.
The video appears to have used a word-substitution program's "spun" versions of these articles. Such programs substitute printed words for similar words or phrases in a bid to obscure the source of the original material or to defeat plagiarism.

But since this is an automated process, it can result in some bizarre sentences. In this video, for instance, the robo-narrator calls Mar-a-Lago, Trump's Palm Beach resort, "Blemish-a-Lago."

A comparison of the narration from the 3:58 minute mark in this video with the original text in the nickiswift.com article follows:
Spun Video Transcript:
Since his dad took office, Barron has remained to a great extent concealed. However, we figured out how to glean some significant knowledge about America's new kid-sovereign. First off, his pre-White House everyday environment at Trump Pinnacle was unfathomably sweet. Goodness, and his mom used to saturate his face with caviar -- however you most likely might have speculated that.

Original from nickiswift.com:
Since his father took office Barron has remained largely out of sight, but we've managed to learn quite a bit about about America's new boy-prince. For starters, his pre-White House living situation at Trump Tower was unimaginably sweet. Oh, and his mother used to moisturize his face with caviar -- but you probably could have guessed that.
Lead Stories has published an in-depth analysis that explains the article spinning process.