STORY UPDATED: check for updates below.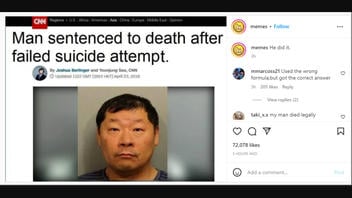 Did CNN publish a story about a man who attempted suicide, only to be sentenced to death in 2018? No, that's not true: CNN never published such a story, a spokeswoman for the network told Lead Stories. The headline featured in the claim is available for download from an online meme repository. The claim's image does not depict a death-row inmate -- it is the mug shot of a man who was arrested in connection with prostitution near Houston, Texas, in 2017.
The headline appeared in a post on Instagram by an account called "memes" on November 15, 2022. It read:
Man sentenced to death after failed suicide attempt.
Here is how the post looked at the time of this fact check's writing: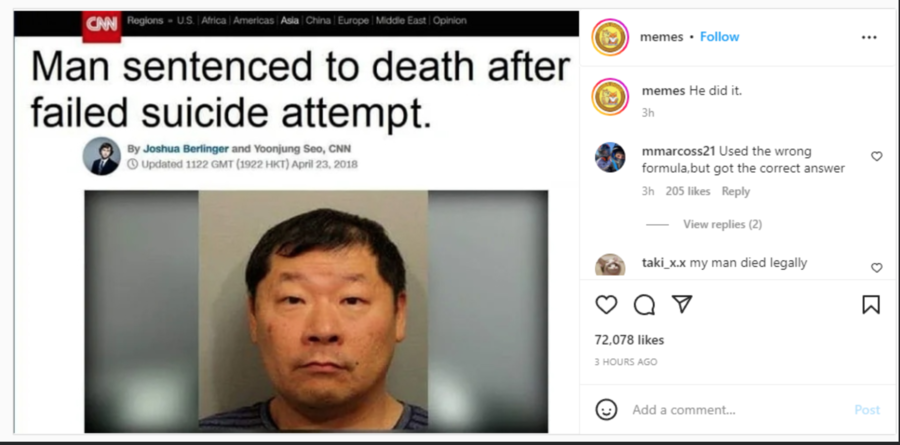 "This is a fabricated image and not something that was reported by CNN," network spokeswoman Emily Kuhn told Lead Stories in an email on November 15, 2022. Kuhn pointed out that the image is available on memegine.com, an internet meme search engine.
Another giveaway that the post is bogus is the period (full stop) at the end of the headline. CNN.com does not end headlines on its stories with periods.
A reverse-image search for the photo that appears in the meme reveals that it is a mug shot of Wan Yun, a volleyball coach who was arrested in Harris County, Texas, in 2017 as part of a sex-trafficking sting operation, according to a February 12, 2017, newscast on Houston-area television station KTRK-TV, which said it broke the story of Yun's arrest
Michelle Lopez, communications specialist at the Harris County District Clerk's office, confirmed to Lead Stories that officers arrested Yun, then 50, on January 24, 2017.
The state of Texas dismissed the charges on August 17, 2017, after Yun completed 40 hours of community service and completed a class on AIDS, according to court documents.
Lead Stories has attempted to contact Yun for comment and will update this story as appropriate if we receive a response.
2022-11-16T00:33:56Z

2022-11-16T00:33:56Z

Clarifies Harris County position of Michelle Lopez, with the district clerk's office.