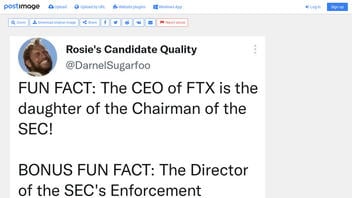 Is the CEO of the cryptocurrency exchange FTX also the daughter of the chairman of the Securities and Exchange Commission, the independent federal agency that enforces regulations of U.S. securities markets? No, that's not true: Sam Bankman-Fried, a male, is the former CEO of FTX. No evidence exists that Bankman-Fried is or has been the daughter of SEC Chairman Gary Gensler.
The claim appeared in a Twitter screenshot posted on Instagram on November 15, 2022. The accompanying text said, "They're all related! Everywhere!" The original tweet appears to have been deleted. The tweet said:
FUN FACT: The CEO of FTX is the daughter of the Chairman of the SEC!
Here's how the post appeared at the time of writing: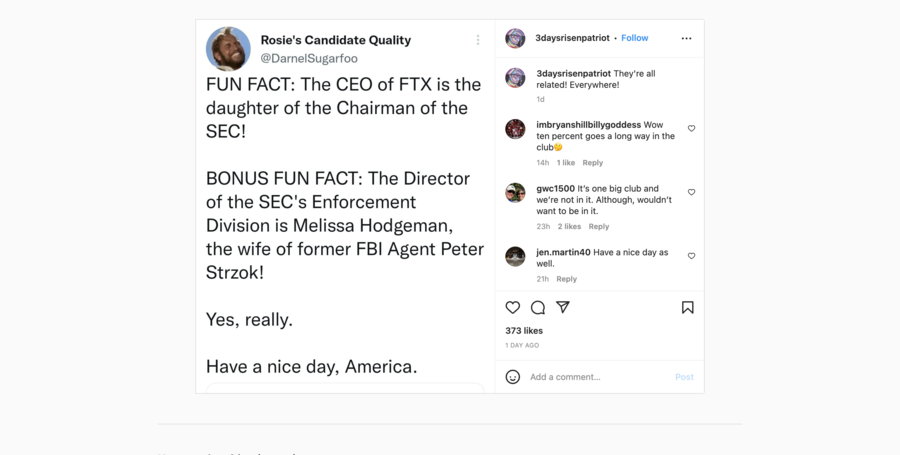 (Source: Instagram screenshot taken on Wed Nov 16 14:11:54 2022 UTC)
Neither the Instagram post nor the tweet cites any sources for these claims.

This fact check addresses solely the first claim.

The former CEO of FTX, a cryptocurrency exchange company, is a 30-year-old man named Sam Bankman-Fried. The official biography of the SEC chairman, Gary Gensler, states that Gensler has three daughters.

A Google search produced no evidence that Bankman-Fried identifies as or has ever identified as a woman. Media outlets such as CNBC and Reuters use he, his and him pronouns when referring to Bankman-Fried.

A search on Twitter revealed that the earliest tweet that included the keywords "SEC, ceo, daughter, ftx" came from a November 10, 2022, tweet from the account @JagoeCapital. The tweet states that the head of MIT's economics department, Glenn Ellison, is the father of Alameda Research CEO Caroline Ellison, an alleged ex-girlfriend of Bankman-Fried, and that SEC Chairman Gary Gensler formerly was a professor of the practice of global economics and management at MIT.

Much like a game of Telephone, the claim posted on Instagram and Twitter about the alleged paternal ties between the FTX CEO and Gensler may be the jumbled result of this information.
Another Lead Stories fact check about FTX can be found here.