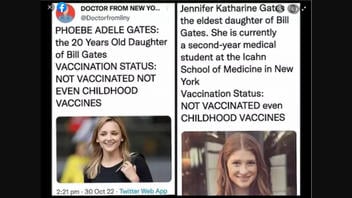 Are Phoebe and Jennifer Gates, the daughters of Bill and Melinda French Gates, unvaccinated? No, that's not true: In a 2019 Facebook post, Melinda Gates wrote that all three of her children were fully vaccinated. There are multiple instances where Phoebe and Jennifer Gates proved themselves vaccinated: Phoebe was at Jennifer's wedding where it was a requirement to be vaccinated, and both are in higher learning institutions that have vaccine requirements in place.
The claim appeared in a Facebook post on October 31, 2022. The post showed two screenshots of tweets with either Jennifer or Phoebe Gates' faces. The claim read:
PHOEBE ADELE GATES: the 20 Years Old Daughter of Bill Gates

VACCINATION STATUS: NOT VACCINATED NOT EVEN CHILDHOOD VACCINES

Jennifer Katharine Gates the eldest daughter of Bill Gates. She is currently a second-year medical student at the Icahn School of Medicine in New York

Vaccination Status: NOT VACCINATED even CHILDHOOD VACCINES
This is what the Facebook post looked like at the time of writing: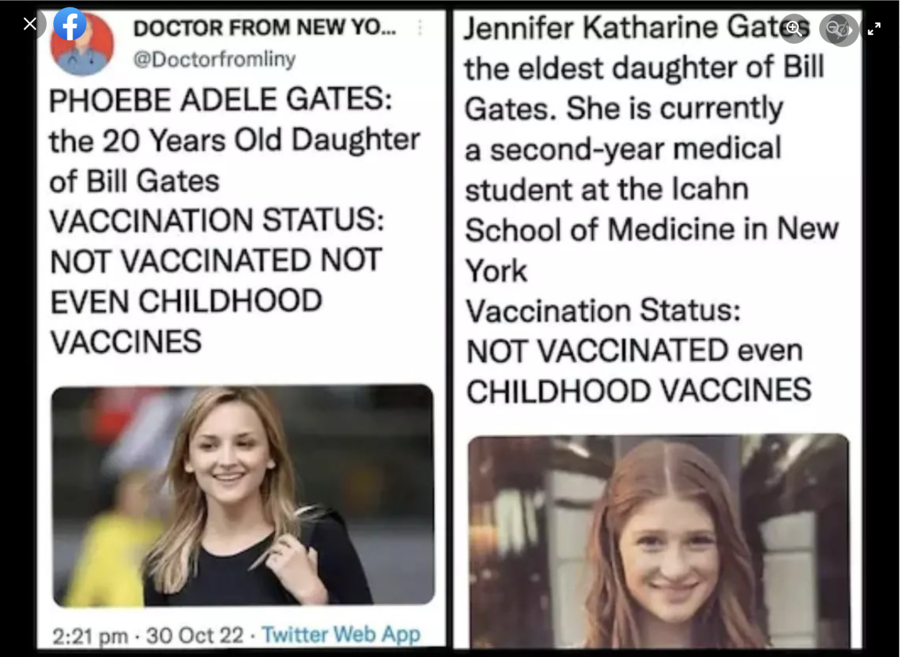 (Source: Facebook screenshot taken on Tue Nov 1 17:03:24 2022 UTC)
The post does not cite a source for this claim.
Melinda Gates wrote an April 18, 2019, Facebook post that said:
All three of my children are fully vaccinated.
In October 2021, Phoebe attended the wedding of her older sister, Jennifer Gates. All guests had to be fully vaccinated. The Vogue article about the wedding said this:
While the couple obviously wanted to be able to celebrate with their close friends and family, they wanted to ensure the event would be safe. 'Which is why we made the decision that all guests must be fully vaccinated and receive a negative test result prior to the wedding,' Jenn says.
Phoebe Gates' verified Instagram account has "Stanford 25" in the bio, signifying that she is a student at Stanford University and her graduation year is 2025. Stanford alerted its students that there would be a COVID-19 vaccine requirement on May 14, 2021. There are also other vaccines students are required to have to enroll at the university, like vaccines to prevent measles, mumps and rubella.
Phoebe published an Instagram post with the caption, "Vaccinated and feeling good" on April 21, 2021. The COVID vaccine has been available since December 2020.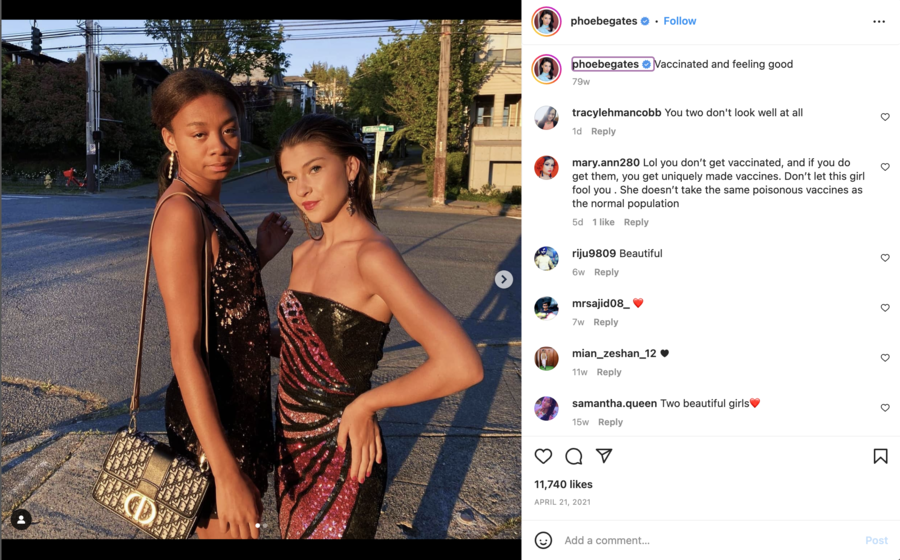 (Source: Instagram screenshot taken on Tue Nov 1 16:30:28 2022 UTC)
Jennifer Gates recently gave "pointers" for third-year medical students on her verified Instagram account, saying that she found that year "personally way more interesting than the first 2 years." She is enrolled in Mount Sinai's Icahn School of Medicine. Icahn has an immunization policy that requires students to be immunized or take an administrative leave of absence until compliance is met.
CNN reported on Jennifer joking about conspiracy theories after getting her first dose of the COVID vaccine. In a now-deleted Instagram post, her caption was, "Sadly the vaccine did NOT implant my genius father into my brain - if only mRNA had that power.....!"
Lead Stories contacted the Bill and Melinda Gates Foundation and Icahn Medical School. We will update this article as appropriate if responses are received.
Here, here and here are more fact checks about the Gates family.