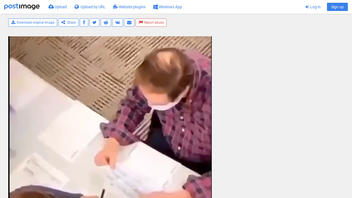 Does a viral video show election workers in Delaware County, Pennsylvania, commiting voter fraud in November 2022? No, that's not true: This exact video and claim were previously debunked in 2020. The election worker shown was manually transcribing damaged ballots, Delaware County officials said. No proof has emerged that the two individuals featured were not adhering to the Pennsylvania election code.
The video appeared in a post on Twitter (archived here) on November 12, 2022. Above a video of people marking ballots on a table, the tweet read:
😳Fraud Treason!

Delaware County Pennsylvania. Camera 7. Woman filling in blank ballots and stamping them! A Uniformed Officer

standing right there watching!


This is what the tweet looked like at the time of this fact check's writing: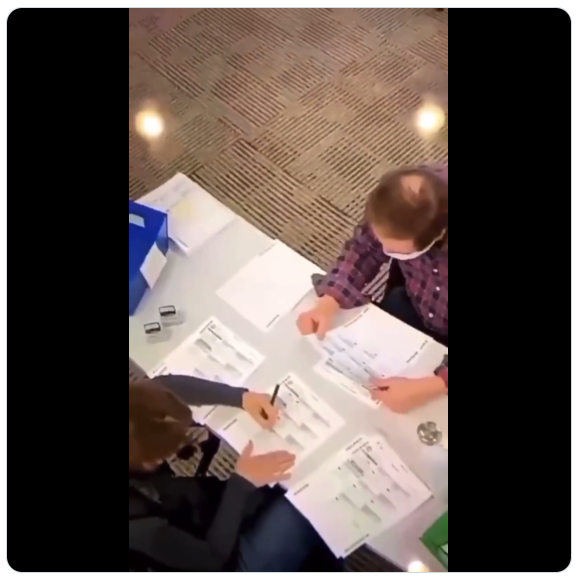 (Source: Twitter screenshot taken on Mon Nov 12 19:07:09 2022 UTC)
As previously reported by Lead Stories on November 6, 2020, the video in the post was edited from a livestream of the counting of ballots in Delaware County, Pennsylvania.
Delaware County's November 6, 2020, press release called the video "manipulated":
The cropped video portrays an election worker, seemingly alone at a table, marking a ballot. The actual video shows the election worker at a table with other coworkers in a room full of people with bipartisan observers a few feet away at each end of the table, closely observing the worker from approximately 6 feet away. This arrangement was agreed upon between the Election Bureau and the former Republican Chairman of Delaware County Council, acting in his capacity as counsel for the Delaware County Republican Party. ...

The Delaware County Bureau of Elections has been offering a live-streaming of the counting of ballots, which began on Nov. 3. The video allows residents to watch the process in real-time and offers a transparent view of the process. Unfortunately, some residents have altered the video and are making false accusations, which baselessly and wrongly attacks the integrity of the election staff and the completely transparent process by which votes are being counted in Delaware County.
The Electronic Voting Systems section of Pennsylvania's Election Code says on page 109:
If any ballots or district totals cards are damaged or defective so that they cannot properly be counted by the central automatic tabulating equipment, a true duplicate copy shall be made and substituted for any such damaged ballot or card.


Lead Stories contacted Delaware County, Pennsylvania, officials about the validity of this claim and will update this story accordingly if a response is received.

Additional Lead Stories fact checks of claims related to the 2022 midterm elections can be found here.