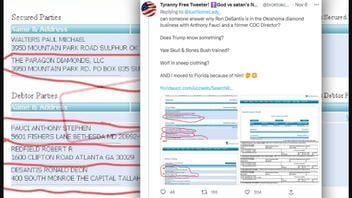 Does a filing on the Florida Secured Transaction Registry show that Anthony Fauci, Florida Gov. Ron DeSantis and many other public servants are involved with a diamond business in Sulphur, Oklahoma? No, that's not true: There is no business by that name registered in Oklahoma. The Registry filing made by Paul Michael Walters does not appear to be a record of a legitimate lien.
Walters made the filing (archived here) on January 9, 2021. On November 6, 2022, a tweet (archived here) was published as a reply to a tweet asking "Why would Trump attack DeSantis?" The reply, with four screenshots of the filing and a link to the Florida Secured Transaction Registry website, was captioned:
can someone answer why Ron DeSantis is in the Oklahoma diamond business with Anthony Fauci and a former CDC Director?

Does Trump know something?

Yale Skull & Bones Bush trained?

Wolf in sheep clothing?

AND I moved to Florida because of him! 🤔😳
This is how the tweet appeared at the time of writing: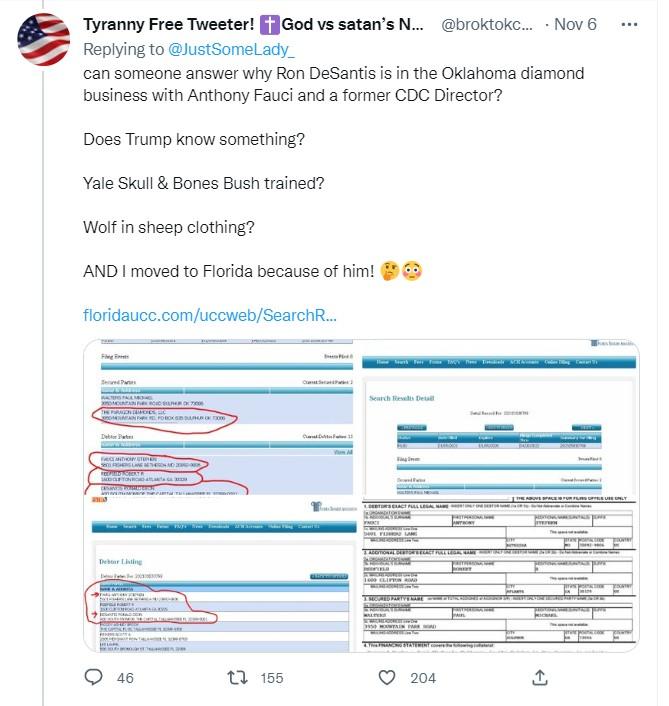 (Image source: Twitter screenshot taken on Tue Nov 14 15:12:52 2022 UTC)
A Uniform Commercial Code (UCC) filing or lien, which the Florida Secured Transaction Registry filing was, is a legal form filed by a lender to make a public record or notice of their claim to the collateral of the borrower. It is possible for this system to be abused. In April 2014 the National Association of Secretaries of State published a document titled, "State Strategies to Subvert Fraudulent Uniform Commercial Code (UCC) Filings." The document describes three types of fraudulent filings that often originate from members of the sovereign citizen movement. The first type (bottom of page 4) is a Harassment Filing:
Sovereigns regularly file retaliatory, bogus financing statements and real property liens against government officials, corporations, and banks (or their employees) as a response to a perceived injustice. Judges, prosecutors, and public defenders are also frequently targeted. Although they are not legally effective, victims may spend years battling their false claims, and some may not even realize they have been targeted until they attempt to conduct a property transaction, or open a line of credit.

Financing statements filed to harass a target victim often falsely indicate that the 'debtor' owes large sums of money to the filer or purported 'secured party.' Harassment filings have become more common in the past decade as prison inmates have learned about these tactics and adopted them in large numbers. For example, a prisoner seeking retaliation against a government official may file an unauthorized financing statement claiming that the official owes the prisoner millions of dollars.
The people listed in this filing are all public servants with wide-ranging duties. Anthony Fauci is the director of the National Institute of Allergy and Infectious Diseases and Robert Redfield is the director of the Centers for Disease Control and Prevention. Also named as "Debtor Parties" are DeSantis, the Florida attorney general, the state surgeon general and secretary of health of Florida at the time of the filing, the Florida secretary of state and many current and former Palm Beach County commissioners.
There is no business registered in Oklahoma by the name THE PARAGON DIAMONDS, LLC. The name of the company does appear in online searches, for example in the sidebar of this self-published advertorial from Paul Walters promoting an affiliate link (pictured below) on a website from India, thedailymoss.com. The article is titled, "Learn How To Represent Yourself In Court With This Expert-Led Course."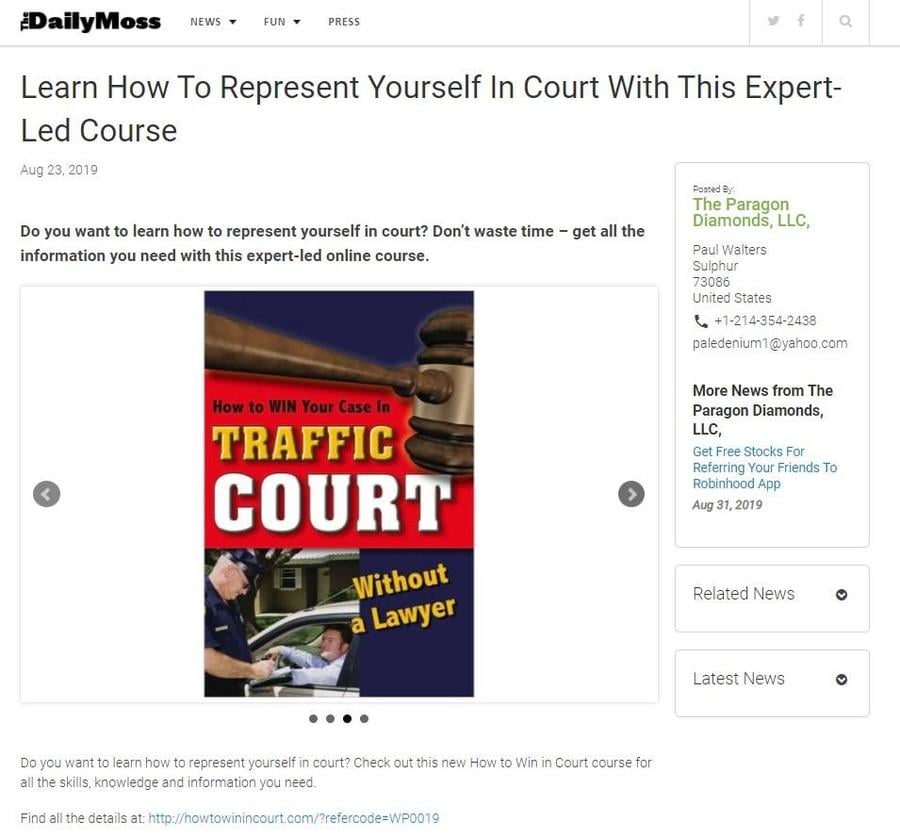 (Image source: thedailymoss.com screenshot taken on Tue Nov 15 17:14:56 2022 UTC)
The four pages of the hard copy of the registry form appear by clicking the document number: 202105830798. It includes an email address for Paul Michael Walters. A Google search for that email address brings up one result, a Word document hosted by the website fakeologist.com. Between November 14 and 15, 2022, this document was made private, but there is a copy cached by Google.
This document appeared to be a draft of a certified letter dated August 27, 2020, addressed to the Office of Governor Ron DeSantis from Paul M. Walters of Lake Worth, Florida. The letter is titled, "SUBJECT - LAWFUL NOTICE Of trespass against my God given and Constitutional rights." The letter is focused on issues surrounding the COVID-19 pandemic, lockdowns and masking and establishes that Walters shares many beliefs with sovereign citizens. At the end of the letter his name is signed with colons separating each name, "By: Paul: Michael: Walters". (Colon use in signatures explained on page 2 of "A Quick Guide To Sovereign Citizens" from the UNC School of Government.)
The letter contains three numbered points that may suggest the motive behind Walters' Registry filing:
This is my lawful notice, If any so called government corporation official or agent tries to stop me or my friends from exercising our God given rights to travel, speak, associate where we want, do commerce, attend church, or wear what I want or don't want on my face, or any other restriction of my rights, you are hereby lawfully noticed of the following:

You must provide proof of claim of your authority under God's laws, or you shall be held accountable for damages.
You must provide proof of claim of your authority under the Constitution and cite the specific clause, or you shall be held accountable for damages.
You are notified herein any harm or interference will be considered trespass against my rights, and I will declare a damage of $1 million per incident. This applies to private businesses and management, any Florida agents and their superiors all the way up to the Governor personally in their individual capacity.
Lead Stories has reached out to the offices of the Florida governor, state attorney general and Palm Beach County commissioners and will update if necessary.
Lead Stories has published several articles debunking false claims and conspiracies involving beliefs of sovereign citizens.