STORY UPDATED: check for updates below.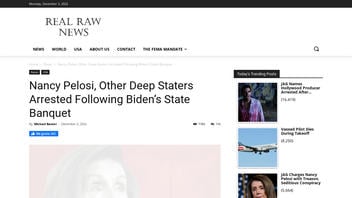 Were Nancy Pelosi and "other Deep Staters" arrested at a President Joe Biden banquet in a faux White House owned by filmmaker Tyler Perry? No, that's not true: No branch of the U.S. military is allowed to arrest civilians, per the Posse Comitatus Act. This claim comes from a website that regularly produces fabricated headlines and classifies themselves as a satirical source.
The claim appeared in an article published by Real Raw News on December 2, 2022, titled "Nancy Pelosi, Other Deep Staters Arrested Following Biden's State Banquet" (archived here) which opened:
United States Special Forces and Army Rangers on Thursday arrested Deep Staters--four politicians, two Hollywood actors, and two liberal media personalities--following the criminal Biden regime's gala extraordinaire banquet, where 300 black-tie guests feasted on taxpayer-funded Maine lobster, Almas caviar, and bottles of Chateau Margaux grand vin--at $200K per bottle.
Users on social media only saw this title, description and thumbnail:
There was a real state dinner honoring France on December 1, 2022, in Washington, D.C. The Biden White House hosted more than 300 guests, including French President Emmanuel Macron, singer John Legend and Vogue editor-in-chief Anna Wintour.
The Real Raw News article claimed the banquet took place in Atlanta, at filmmaker Tyler Perry's mock-up of the White House. While there is a to-scale White House owned by Tyler Perry Studios in Atlanta, the dinner was not held there.
The U.S. military are not allowed to arrest individuals, as stated in the Posse Comitatus Act. A Google News search of the key words "United States Special Forces and Army Rangers arrest Nancy Pelosi" resulted in zero news reports.
The article claims Pelosi was arrested on December 1, 2022. She has tweeted from her verified account since that date. She posted a tweet about the death of Congressman Jim Kolbe on December 4, 2022.
It is with great sadness that we join the people of Arizona in mourning the loss of Congressman Jim Kolbe. Whether in the Navy, the State Senate or the House of Representatives, Congressman Kolbe was a passionate public servant, who always defended his southern Arizona community.

-- Nancy Pelosi (@SpeakerPelosi) December 4, 2022
Also, Nancy Pelosi and her husband, Paul, attended the Kennedy Center Honors ceremony in Washington on the night of December 4, 2022.
Lead Stories contacted the U.S. Special Operations Command. In a December 5, 2022, email, the deputy director of the U.S. Special Operations Command Communication Office, Kenneth McGraw told Lead Stories:
This report is totally false. US Special Operations Command and its subordinate units - like the Rangers and Special Forces - are not law enforcement organizations and not have the authority to arrest anyone, especially U.S. citizens.
Real Raw News has a long history of publishing false claims in mock news stories, many of them about convictions and executions of various public figures at Naval Station Guantanamo Bay in Cuba. For example, the site reported former Secretary of State Hillary Clinton was hanged (she wasn't); former White House Chief of Staff John Podesta was executed (he wasn't); and that "the military" convicted former Attorney General William Barr on charges of treason (it didn't).
The website for Real Raw News includes a disclaimer that warns readers not to take its content too seriously. Specifically, it says:
Information on this website is for informational and educational and entertainment purposes. This website contains humor, parody, and satire. We have included this disclaimer for our protection, on the advice on legal counsel.

(Source: RealRawNews.com screenshot taken Tue Aug 3 16:39:48 UTC 2021)
Lead Stories has covered claims published by Real Raw News in the past. Previous Lead Stories debunks of Real Raw News items is collected here.
2022-12-05T20:35:41Z

2022-12-05T20:35:41Z

Response added by U.S. Special Operations Command.