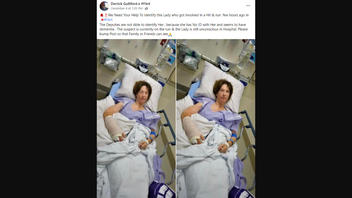 Do these photos of a woman in a hospital bed accurately depict an unidentified, hit-and-run victim in a hospital in Flint, Michigan? No, that's not true: Lead Stories traced the images, widely circulated on social media, to a stock photo website. Law enforcement departments elsewhere in the United States have debunked the same claim.
An example of the claim appeared on Facebook on December 4, 2022. The post, which was published in the "#Flint" public group, included two images of a woman in a hospital bed with an arm cast. The caption of the post read:
🚨❗️We Need Your Help To Identify this Lady who got involved in a Hit & run few hours ago in 📍#Flint
The Deputies are not Able to identify Her , because she has No ID with Her and seems to have dementia . The suspect is currently on the run & the Lady is still unconscious in Hospital. Please bump Post so that Family or Friends can see🙏
The claim has appeared in several other Facebook groups tied to various geographic locations in the United States (here, here, here, here and here) with the aim of getting users to share the post.
This is what the post looked like on Facebook at the time of the writing of this fact check: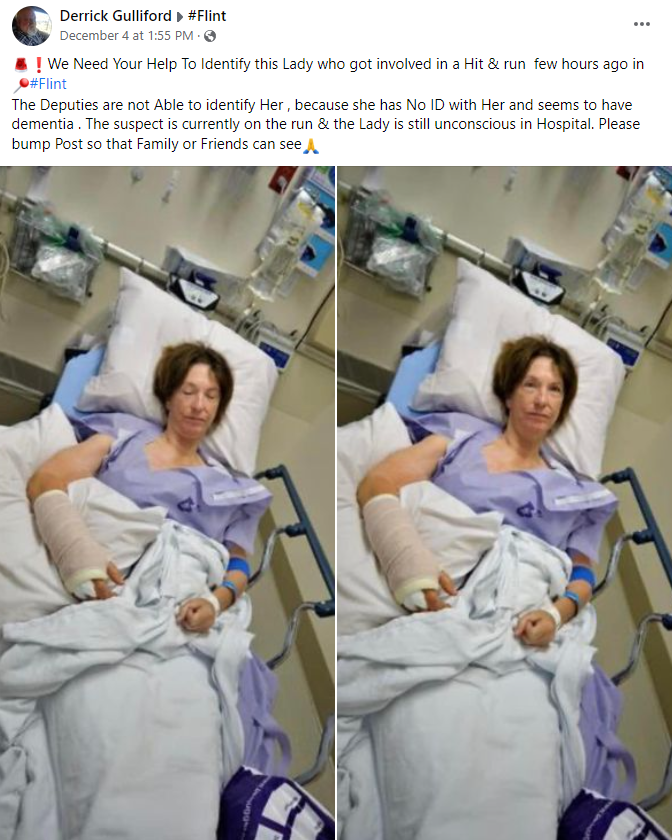 (Source: Facebook screenshot taken on Wed Dec 7 15:31:48 2022 UTC)
Lead Stories performed a reverse image search for the two images on Google Images and TinEye. The images appear to have originated on the stock image website Alamy. The images can be found on Alamy here and here, with the title, "Senior woman in hospital emergency room bed after a night fall which broke her are and wrist on her right arm which is her dominate usable for work."
Law enforcement departments from different areas of the country have explained that this post is a scam. Facebook posts from the Summit County Sheriff's Office in Ohio and the South Bend Police Department in Indiana provide guidance on how to spot similarly false posts.

Lead Stories contacted the City of Flint, Michigan, for more information about the claim that appeared in the "#Flint" public group. We will update this fact check with any relevant response.
Lead Stories has previously debunked claims similar to this one. Those can be found here, here and here.