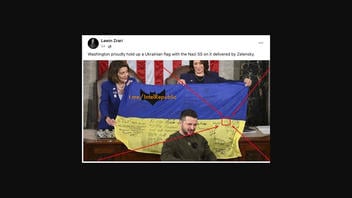 Did Ukrainian President Volodymyr Zelenskyy bring a national flag with the "Nazi SS" symbol to Washington, D.C.? No, that's not true: The image circulating on social media was flipped to distort the original inscription.
The claim appeared in a post published on Facebook on December 23, 2022. It contained an image showing U.S. House Speaker Nancy Pelosi and Vice President Kamala Harris holding a Ukrainian national flag behind Zelenskyy delivering remarks. The caption said:
Washington proudly hold up a Ukrainian flag with the Nazi SS on it delivered by Zelensky.
This is what the post looked like on Facebook at the time of writing:
(Source: Facebook screenshot taken on Thu Dec 29 14:51:46 2022 UTC)
Contrary to the claim, the flag did not have the letters "SS" standing for Schutzstaffel ("Protective Echelon"), a multi-division militarized organization of Nazi Germany under Adolf Hitler known for the promotion of racially motivated hatred and committing war crimes during WWII.
The original photo shows that the image was flipped in the Facebook post to create such a resemblance: What was written on that piece of the flag was the number 46, not SS.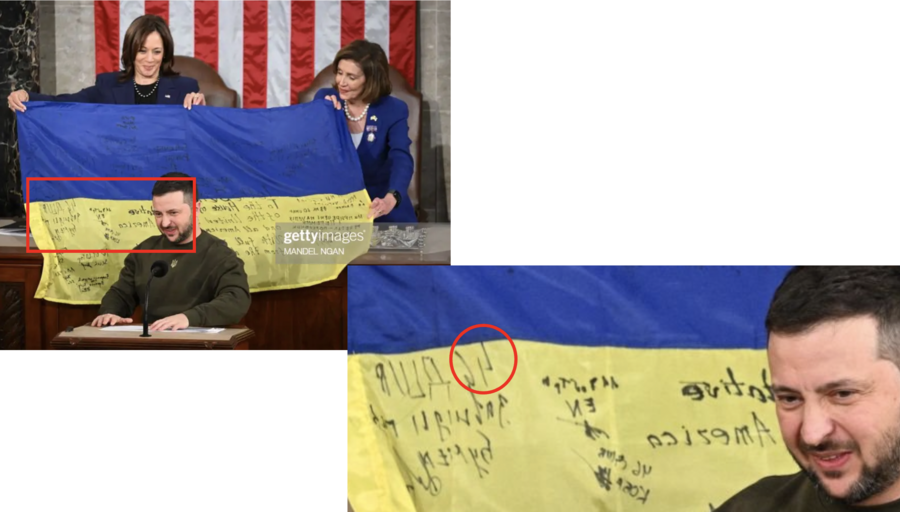 (Sources: GettyImages.com screenshot taken on Thu Dec 29 15:21:06 2022 UTC; composite image by Lead Stories)
Zelenskyy received the flag with hand-written signatures of Ukrainian soldiers fighting in Bakhmut during his visit to this city in eastern Ukraine, as The Wall Street Journal reported.
The actual inscription -- 46 ДШЯ -- is likely to be a reference to the 46th airborne assault brigade, one of the Ukrainian units that was reported to participate in the defense of the area.
The Ukrainian president arrived to Bakhmut on December 20, 2022, as his army continued to resist the attempts of the Russian military and private paramilitary groups to capture the city.
Right after that, Zelenskyy headed to Kyiv and then to the Polish border to board a plane to Washington, D.C.
Other Lead Stories fact checks about the ongoing war in Ukraine can be found here.