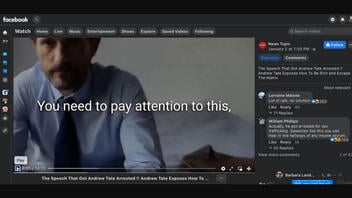 Was former kickboxing champion and internet influencer Andrew Tate arrested by authorities in Romania because of a speech he gave about the "matrix" -- a rigged society system he claims is designed to benefit only the rich? No, that's not true: Tate was arrested on December 29, 2022, on suspicion of human trafficking, rape and participating in an organized crime group
The claim appeared on Facebook on January 2, 2023, under the title "The Speech That Got Andrew Tate Arrested !! Andrews Tate Exposes How to Be Rich and Escape the Matrix." It opened:
You need to pay attention to this, right here, right now. Because the things you are going to learn today are going to change the way you view the world. They will shape your reality.
Here's how the Facebook post appeared on the day of this writing: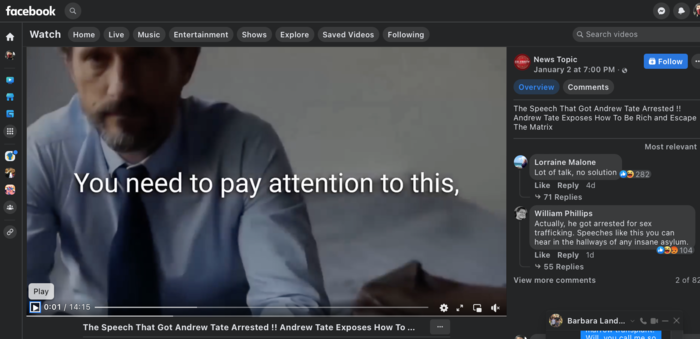 (Source: Facebook screenshot taken Jan 11 at 16:59:37 2023 UTC)
The 14-plus-minute video goes on to tout the ex-kickboxer's "matrix" claims and promises viewers that Tate's knowledge can help them "escape" the rigged system and become rich. The video's message is consistent with others from Tate that Lead Stories found on YouTube (here and here) and on the ex-kickboxer's own social channels, (Twitter, YouTube and Instagram) as well as his website, where he sells memberships to exclusive content and clubs about creating wealth.
The claim that Tate's speech from the Facebook post drove his arrest is false, according to reporting by Lead Stories on other similar claims.
Tate, 36, who holds dual U.S. and British citizenship, was arrested on December 29, 2022, along with his brother and two other men on charges of human trafficking, organized crime and rape, according to a press statement from the Romanian police.
In a phone interview with Lead Stories staffer Ioana Burtea on December 30, 2022, for a separate fact check about Tate's arrest, Ramona Bolla, a spokeswoman for Romania's Directorate for Investigation Organized Crime and Terrorism (DIICOT), said the two Tates were questioned about holding two women hostages in their Ilfov County residence.
The case has been under investigation since April 2022, according to a press release posted on DIICOT's website.
Neither Tate, nor any of his fellow suspects had been released, Bolla told Lead Stories in a telephone interview on January 3, 2023, A Romanian court ordered all four individuals to be held in pre-trial detention for 30 days on December 30, 2022, Bolla said.
Lead Stories has fact-checked other claims about Tate, which can be seen here.