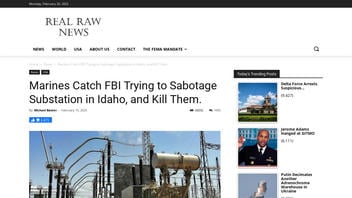 Did members of the U.S. Marine Corps kill FBI agents at an electrical substation in Meridian, Idaho, on February 12, 2023, Super Bowl Sunday? No, that's not true: The claim was made by Real Raw News, an online publication that repeatedly publishes fake news stories.
The claim originated in an article (archived here) published by Real Raw News on February 15, 2023, and titled "Marines Catch FBI Trying to Sabotage Substation in Idaho, and Kill Them." The article opened:
United States Marines on Sunday gunned down criminal FBI agents trying to sabotage an electrical substation in Meridian, Idaho, sources in Gen. Smith's office told Real Raw News.
Users on social media saw this title, description and thumbnail:
Lead Stories found no evidence of such an attack occurring on February 12, 2023, after looking at various news sources for the story. The premise of the false claim appears to have been inspired by acts of vandalism, some involving firearms, that actually happened at electrical substations in North Carolina, Oregon and Washington. At the time of writing, the FBI is offering rewards up to $25,000 for information related to the North Carolina shootings.
Real Raw News
Real Raw News is a website that consistently publishes made-up stories about U.S. politics. The well-written English and news-style layout of the website make it look like a legitimate news source, so it often fools people into believing the stories are real. Screenshots and copies of the stories regularly turn up on other websites or on social media where they are presented as real.
It bills itself as "humor, parody and satire" on the "about" page (archived here):
Disclaimer:

Information on this website is for informational and educational and entertainment purposes. This website contains humor, parody, and satire. We have included this disclaimer for our protection, on the advice on legal counsel.
The same "about" page claims the main author is a man named Michael Baxter. In 2021 a PolitiFact article (archived here) identified the writer as a "Michael Tuffin" in Texas based on records found in a GoFundMe campaign set up to support the site.
NewsGuard, a tool that provides credibility ratings for websites, published a five-page PDF report (archived here) in 2021 describing realrawnews.com as, "An anonymously run website that has published baseless and debunked conspiracies about COVID-19 and U.S. politics." It cautioned that the website severely violates basic journalistic standards."
Lead Stories has covered claims published by Real Raw News in the past. Previous Lead Stories debunks of Real Raw News items are collected here.