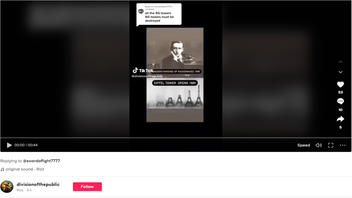 Does a social media video prove that the advent of radio wave and mobile phone technology ushered in flu, COVID and other viral outbreaks from the 1900s on? No, that's not true: The emergence of these viruses is a natural process and not caused by technology itself. In addition, the timeline provided in the social media video doesn't establish cause and effect, nor does it accurately reflect the chronology of all the events.
The claim appeared in a video on TikTok (archived here) published on March 1, 2023, with these words posted above the video:
all the 5G towers

6G towers must be

destroyed
This is what the post looked like on TikTok at the time of writing: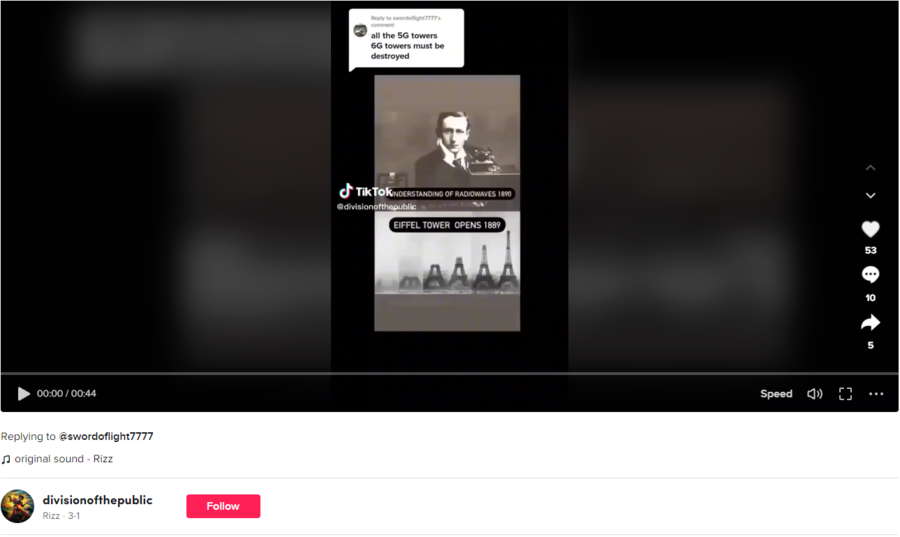 (Source: TikTok screenshot taken on Mon Apr 17 14:21:06 2023 UTC)
The 44-second video provides no evidence to support its case. It merely provides a timeline of 18 events, which isn't always accurate, in an effort to show what is claims is cause and effect between the development of radio and phone technology and various viral outbreaks, starting with the flu pandemic in 1918.
The video timeline
The video provides the following timeline (not always in order or accurately):
1890 - Understanding of radio waves
1889 - Eiffel Tower opens
1920 - First radio program broadcast
1906 - First long-distance radio transmission
1918-20 - "Spanish" flu pandemic (H1N1 influenza)
1979 - 1G launches in Japan, voice call is still analog
1991 - 2G launches in Finland, digitally encrypted calls, wider radio frequency band, SMS texting
1991-94 - Cholera outbreak "01 tor mutated strain"
1998 - 3G launches in Japan, internet on phone, photo camera
1998 - Bird flu (avian influenza A)
2003 - 3G upgrade, upgrade in band frequency & launch of first commercial 3G network
2002-03 - SARS virus
2003-2004 - Avian influenza (bird flu)
2009 - 4G launches in Sweden, HDTV 3D TV, gaming services, video conferences
2009 - H1N1 pandemic ("swine flu")
2019 - 5G launches worldwide, many cell towers, both antennas & smaller transmitters, fingerprint scanner, facial recognition, "smart home"
2019-20 - COVID-19
In addition to there being no proven connection between radio wave/mobile phone technology and any viruses, the timeline in the TikTok video is also inaccurate in several places.
Radio waves
Scientists had an understanding of radio waves well before 1890, the year on the timeline. In the mid-1860s, Scottish physicist James Clerk Maxwell compiled the equations that described them. Then, in 1888, German physicist Heinrich Hertz produced and detected electromagnetic waves in his laboratory, proving the theories Maxwell's equations predicted.
First long-distance radio transmission
The first long-distance transmission did not take place in 1906, it happened five years earlier. Italian physicist Guglielmo Marconi sent the first radio transmission 2,000 miles across the Atlantic Ocean on December 12, 1901. The first two-way transatlantic radio transmission did occur in January 1906.
1G
The first generation of cellphones was launched in 1979 in Tokyo but the service wasn't available nationwide until 1984. It didn't debut in the United States until 1983.
3G
The 1998 pairing of 3G cellphone technology with an avian influenza A outbreak in 1998 is wrong on a few counts. First, that particular bird flu epidemic began in 1997, years before 3G was widely available. Second, it wasn't until four years later that the "next-generation" technology was commercially available anywhere, not 2003 as another point on the timeline says. The Intraway website reports:
The first global pre-commercial launch of the 3G network was in Japan by NTT Docomo in 1998, and it was branded as FOMA. The first commercial launch of the technology happened on October 1, 2001- also by NTT Docomo in Japan.
CNN also reported the 2001 3G launch in Japan. It later spread globally before being retired in 2022 in favor of better 4G and 5G systems.
Lead Stories has previously debunked multiple claims that tried to show a link between 5G technology and COVID-19. Some of them appear below:
Additional fact checks related to COVID-19 vaccines can be found here.