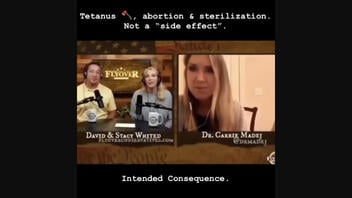 Are tetanus shots being used to sterilize people? No, that's not true: Such claims are "completely illogical and contrary to fact," a molecular biologist told Lead Stories. There is no substantive evidence that tetanus vaccines available as of June 2023 contain a hormone that would "attack" a pregnancy and cause a miscarriage. Numerous studies indicate that tetanus vaccines are safe and effective for use in both pregnant and non-pregnant people.
A version of the claim originated in a clip posted on Instagram on June 3, 2023, with a caption that read, in part:
Tetanus 🪓

Sterilization

Abortion

Intended

Consequence
Below is how the post appeared at the time of this writing: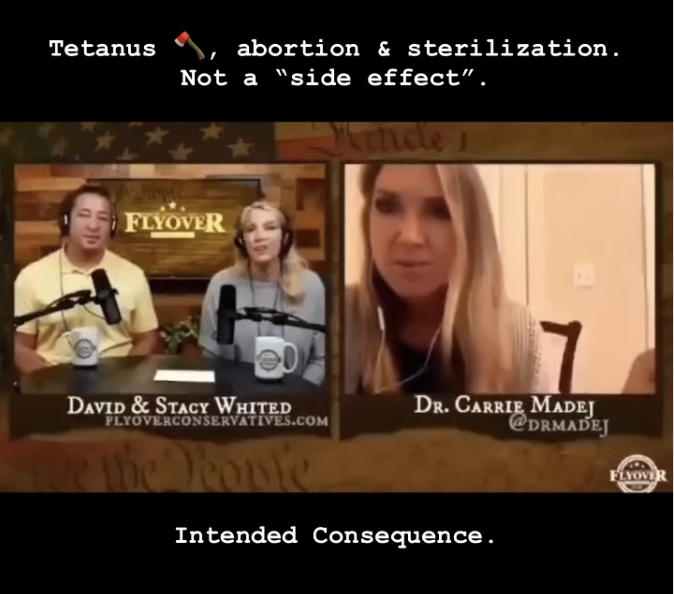 (Source: Instagram screengrab captured Sun June 4 12:11:00 UTC 2023)
The above clip originated from a longer podcast interview with Carrie Madej, a known COVID-19 misinformation spreader whom Lead Stories has previously debunked. (A former internist, she voluntarily surrendered her medical license in January 2023.) Madej was featured in a 56-minute filmed podcast episode of Flyover Conservatives that was posted to the video streaming platform Rumble on October 11, 2021, (archived here). In an interview with podcast hosts David and Stacey Whited, Madej made several false claims surrounding the tetanus vaccine that were included in the Instagram clip:
I've never heard of anyone dying [of tetanus] that way. So, come to find out, that is a lie. No one has died that way. Nobody in the entire world, in the history, modern history, right? So, why are they giving it [the tetanus vaccine] out if that's a lie, right? ...

But I saw there is a huge difference in fertility, huge, in people who didn't get it [tetanus vaccine] were extremely fertile. The people who did had a lot of problems. I Googled it then and sure enough, you can still find this if you Google it that the World Health Organization and NIH have since 1972 been developing the tetanus vaccine as an abortion or sterilization vaccine.

They've been putting the pregnancy hormone inside the tetanus vaccine in that vial and so every time you get it it's a cumative [sic] response. Your body will then see if you're female, you'll see when you're getting pregnant you have a higher and higher HCG level, right? Well, then your body will then learn to attack that. So, it's going to attack an early pregnancy. So, then you wouldn't even know you got pregnant in the first place. So, they have absolutely used this in Latino countries, Africa and India. ...

So, my point is these are the organizations standing behind the COVID shot.
Such inaccurate claims have circulated online for decades and largely stem from a vaccine developed in the early 1990s that combined a contraceptive and tetanus vaccine to temporarily prevent pregnancy. As part of the study, 148 women were given a vaccine that contained the hormone human chorionic gonadotrophin (HCG) as an active ingredient.
Medical experts contend that such practices have not occurred since:
In 1995, the World Health Organization (WHO) issued a statement that rumors that HCG is in tetanus shots are "completely false and totally without any scientific basis"
In 2017, a WHO report said that "human chorionic gonadotropin (HCG) or any HCG derivatives have never been used in the production of tetanus vaccines."
Michael Imperiale, a molecular biologist at the University of Michigan Medical School, told Lead Stories in an email received June 6, 2023, that such claims that tetanus vaccines contain hormones that "attack" a pregnancy are "completely illogical and contrary to fact."
Numerous studies have shown that tetanus vaccines available as of June 2023 are safe and effective in both pregnant and non-pregnant people. Tetanus is described by the Centers for Disease Control and Prevention (CDC) as an "acute, often fatal disease" that is primarily prevented through the use of vaccines.
Tetanus vaccines are proven safe and effective in pregnant people
In the clip, Madej falsely stated that "neither the flu or TDaP 🪓 has ever been tested for safety in pregnancy." As the CDC reports, there have been multiple studies that have shown "that people who have received flu shots during pregnancy have not had a higher risk of spontaneous abortion (miscarriage)." Similarly, there have been dozens of reported studies on the safety of the Tdap vaccine in pregnancy.
"Tens of thousands of people die from tetanus each year, globally," Imperiale told Lead Stories, referencing statistics published by WHO.
"Pregnant women are routinely immunized, mainly to protect the fetus and newborn against pertussis, which is another component of the vaccine (diphtheria-tetanus-pertussis)," said Imperiale, adding that the pregnancy hormone HCG is not a common ingredient included in tetanus vaccines and that there are no known contraindications with tetanus vaccines and pregnancy.
"Spreading misinformation like this is dangerous because it puts people's lives at risk," he added.
Tetanus is a potentially deadly infectious disease
Tetanus is caused by the soil-dwelling bacterium Clostridium tetani, which releases an exotoxin into the body typically through a puncture wound. Symptoms usually begin with muscle stiffness in the jaw and neck, known as lockjaw, that then generalizes throughout the body and can cause rigidity and convulsive spasms. Symptoms following tetanus infection typically show up within a week but can range from one day to one month, according to the European Centre for Disease Prevention and Control.
Tetanus is diagnosed by examining the patient's history and is typically treated with antibiotics and wound care, as well as drugs to control spasms, the CDC says, Johns Hopkins adds that there is no cure for tetanus, but vaccines can reduce the risk of serious disease after injury.
Tetanus infection rates and deaths have declined since vaccines were made routine
In 1948, the tetanus vaccine became available as a combined vaccine with the diphtheria toxoid and pertussis vaccine (DTP) and was subsequently introduced into routine childhood vaccine schedules, the National Institutes of Health (NIH) says.
Since the 1940s, tetanus infection and mortality rates have dropped significantly. In the 1940s, for example, there were an estimated 500 to 600 cases reported annually in the U.S., NIH says. In the 1970s, there were 50 to 100 cases reported each year. From 2009 through 2017, there have been a total of 264 tetanus cases reported in the U.S. for an average of 29 tetanus cases reported each year. This 10-year period saw just 19 tetanus-related deaths.
The below graph shows mortality and incidence rates of tetanus reported in the U.S. between 1900 and 2017:
(Source: CDC)
Though tetanus rates have decreased in the U.S. and other developed countries, it is still a significant cause of disease and death in other parts of the world. In 2019, the Institute for Health Metrics and Evaluation estimated in its Global Burden of Disease study that there were over 73,000 total tetanus cases and more than 27,000 neonatal tetanus infections. An estimated 34,700 tetanus deaths occurred globally, primarily in South Asia and Sub-Saharan Africa.
Tetanus recommendations in 2023
Today, there are several combined tetanus vaccine products that are administered dependent on age and vaccine record. In an email to Lead Stories received June 7, 2023, the American College of Obstetricians and Gynecologists referred us to organizational recommendations that suggest all pregnant people get the Tdap vaccine during each pregnancy.
Lead Stories has debunked other vaccine-related misinformation, including that there is no peer-reviewed evidence that "green monkey DNA" is found in mRNA vaccines, that there is no long-term impact on sperm production from Pfizer COVID vaccination, and that there is no evidence COVID vaccines are rewriting patients' DNA.