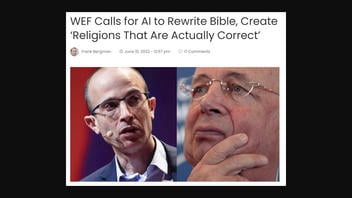 Did a "top official with the World Economic Forum (WEF)" call for "religious scripture to be 'rewritten' by artificial intelligence (AI) to create a globalized 'new Bible'"? No, that's not true: Author and WEF contributor Yuval Noah Harari, who is not considered a "top official" with the international economic organization, did not call for a "new Bible" to be written but rather discussed the possibility that AI could one day generate original religious scripture. He discussed the future of AI and its impact on society, including religious groups, during a May 2023 interview in Portugal.
A version of the claim stemmed from an article titled, "WEF Calls for AI to Rewrite Bible, Create 'Religions That Are Actually Correct,'" (archived here) by Slay News that was published on June 10, 2023. It read, in part:
A top official with the World Economic Forum (WEF) has called for religious scripture to be 'rewritten' by artificial intelligence (AI) to create a globalized 'new Bible.'

Yuval Noah Harari, the senior advisor to the WEF and its chairman Klaus Schwab, argues that using AI to replace scriptures will create unified 'religions that are actually correct.'

Harari, an influential author and professor, made the call while giving a talk on the 'future of humanity.'

According to Harari, the power of AI can be harnessed and used to reshape spirituality into the WEF's globalist vision of 'equity' and inclusivism.
Below is how the article appeared at the time of writing: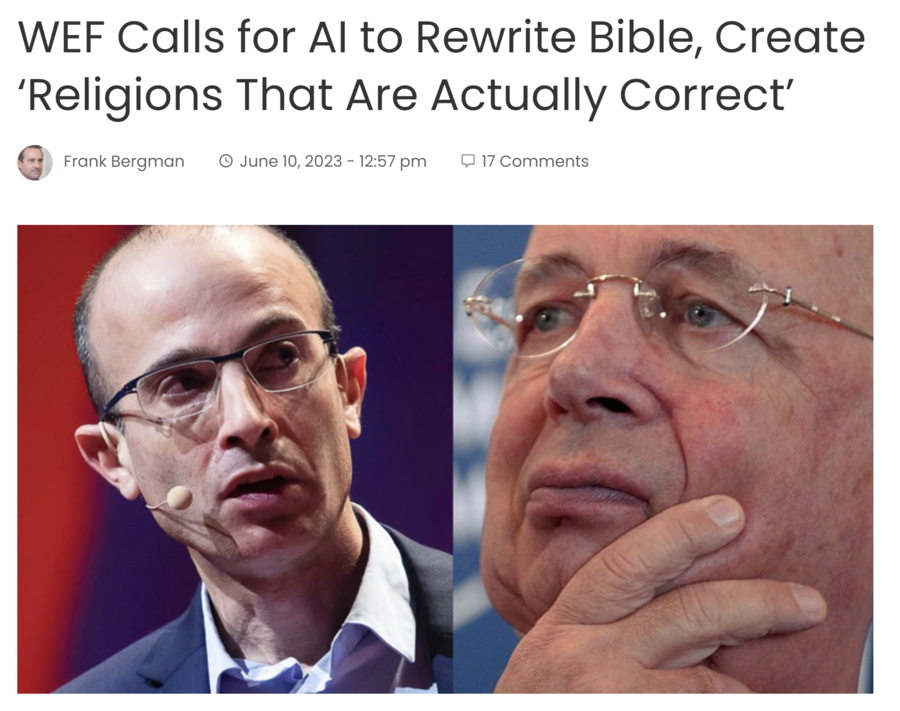 (Source: Slay News screengrab taken Thu June 15 09:22:00 UTC 2023)
Harari is a self-described historian, philosopher and author. Born in Israel, he is a history professor at the Hebrew University of Jerusalem and a contributor to and lecturer at WEF.
Websites such as Slay News and Charisma, as well as some social media users, misrepresented comments made by Harari during a May 19, 2023, interview in Lisbon, Portugal in which he discussed the potential impacts of AI. A video of the interview was posted to Harari's YouTube page on June 6, 2023, (archived here) with a description that read:
Join journalist Pedro Pinto and Yuval Noah Harari as they delve into the future of artificial intelligence (A.I.). Together, they explore pressing questions in front of a live audience, such as: What will be the impact of A.I. on democracy and politics? How can we maintain human connection in the age of A.I.? What skills will be crucial for the future? And what does the future of education hold?
During the interview, Harari did not call for the Bible to be rewritten by AI, though he did discuss the possible future creation of new religions founded on AI-created foundational texts.
At the 7:18 mark, Harari said:
... [AI is] the first technology ever that can create new ideas. You know, the printing press, radio, television -- they broadcast, they spread the ideas created by the human brain, by the human mind. They cannot create a new idea ...

[Johannes] Gutenberg printed the Bible in the middle of the 15th century. The printing press printed as many copies of the Bible as Gutenberg instructed it, but it did not create a single new page. It had no ideas of its own about the Bible ...

AI can create new ideas [and] can even write a new Bible ... Throughout history, religions dreamt about having a book written by a superhuman intelligence, by a nonhuman entity ... Every religion claims our book, all the other books of the other religions -- oh humans wrote them, but our book, no no no no no. It came from some superhuman intelligence. In a few years, there might be religions that are actually correct. That, just think about a religion whose holy book is written by an AI. That could be a reality in a few years.
Lead Stories contacted the WEF and Harari for comment and will update the article if a response is received.
Lead Stories has also reported that the WEF did not tweet about "when being anti-bug was bigotry," that the organization did not announce the recruitment of "information warriors" to control the narrative on social media, and that neither the WEF nor its founder was planning a major cyberattack that would effectively shut down "our society as a whole."