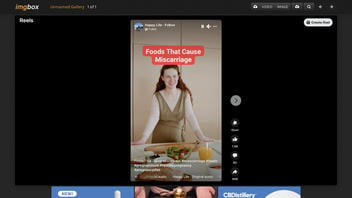 Does eating certain foods cause miscarriages? No, that's not true: Lead Stories spoke to a perinatal dietitian and a registered dietitian nutritionist about this claim and was told by both that in general foods do not cause the loss of a pregnancy. The food category that may be the most unhealthy would be junk food, because of it's low nutrional content, but neither of the professionals stated that eating junk food has in itself a direct correlation to having a miscarriage.
The claim appeared on Facebook where it was published on July 17, 2023, with the caption "Foods That Cause Miscarriage #misscarriage #foods #pregnantfood #healthypregnancy #pregnancydiet." It opened with:
Foods that cause miscarriage. One, papaya. It is one of the common foods that can cause miscarriage.
This is what the post looked like on Facebook at the time of writing: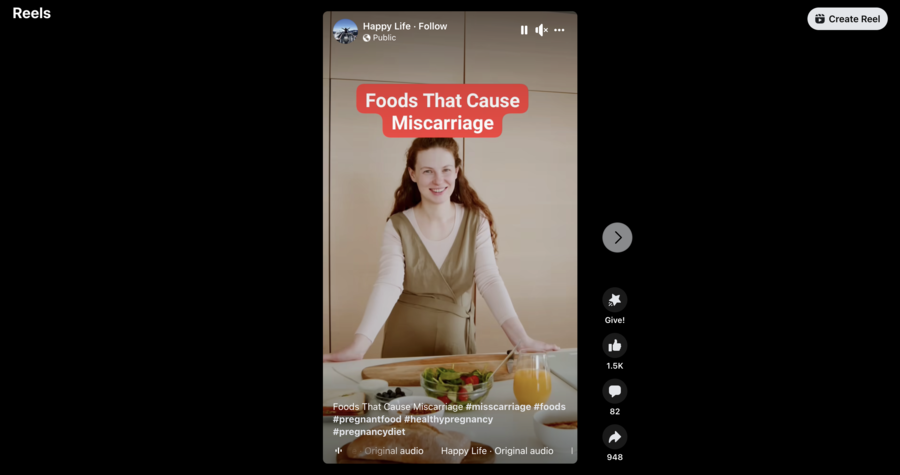 (Source: Facebook screenshot taken on Mon Jul 24 18:04:52 2023 UTC)
The video lists 10 different foods that allegedly cause miscarriages: papaya, pineapple, sprouted potatoes, raw eggs, unpasteurized dairy products, crabs, junk food, smoked seafood, sesame seeds, and energy drinks.
The video gives only vague reasons to avoid some of the foods on the list. For example, the video states that "high amounts" of crab will cause a miscarriage, but it does not define what a "high amount" is. It mentions salmonella in connection with raw eggs, but raw eggs containing salmonella could sicken anyone. Many professionals advise against eating raw eggs for all people, pregnant or not, because of how prevalent the salmonella bacteria is in them.
Lead Stories spoke to Lisa Young, a registered dietitian nutritionist and adjunct professor of nutrition at New York University, and asked if any of the foods listed in the video by themseles cause miscarriages. In a July 27, 2023, email, Young told Lead Stories that most foods do not cause miscarriages, but risks can become more apparent if the food isn't prepared properly or is not high in nutrition:
Generally foods themselves don't cause miscarriage. However, certain foods come with higher risks of food-borne illnesses which can be problematic. Skipping raw eggs and unpasteurized dairy are a good idea. Similarly excessive caffeine, drugs, cigarettes and alcohol can be problematic. So, consuming too many energy drinks is not a good idea.

A diet high in ultra-processed food was has also been associated with an increased miscarriage risk. So it's a good idea to limit junk food.

As for the other foods listed like pineapple and papaya, there is not conclusive research to support the claims.
The video provides no evidence or medical documentation to substantiate the claim of those 10 foods causing miscarriage. This article will focus on three of the 10 foods -- "junk food," crab and pineapple -- as examples of foods cited without any evidence of harm.
CRAB:
The Facebook video claims that "high amounts" of crab will cause a miscarriage, but it does not define what a "high amount" is.
The Food and Drug Administration's (FDA) page titled, "Advice about Eating Fish For Those Who Might Become or Are Pregnant or Breastfeeding and Children Ages 1-11 Years" lists crab under "Best Choices" when deciding to eat seafood. If one is pregnant or breastfeeding, they should eat two to three servings a week from the Best Choices list, the FDA says.
Lead Stories contacted Jordan Kirk, a perinatal dietitian specializing in maternal and fetal health at the Order of St. Francis (OSF) Medical Center in Peoria, Illinois, about the claim and in a July 26, 2023, email Kirk told us that pregnant individuals eating cooked crab is not harmful. She continuesd,
Crab - Is safe during pregnancy as long as it is cooked. Pregnant women are recommended not to eat sushi (raw fish) as it can contain food borne illnesses that could result in miscarriages ... crab is low in mercury and is safe to eat in all stages of pregnancy (as long as its cooked). Crab and other low mercury fish like salmon, tilapia, or shrimp are actually recommended to eat at least 2-3 servings per week as it is a good source of protein and some sources are high in omega-3 fatty acids.
PINEAPPLE:
Kirk told Lead Stories that pineapples are safe as well. When asked if pineapple fruit or juice would cause miscarriages, Kirk told us that that myth comes from "an old wives' tale":
This is the most common one I have patients ask me as well. This is basically an old wives tale. Pineapple does contain bromelain, an enzyme that can cause abnormal bleeding, but not in any amount that would likely impact pregnancy.
JUNK FOOD:
The video names the broad category of junk food but does not specify any types or products.
Junk food should be avoided in excess, according to Kirk, but would not cause a miscarriage if eaten in moderation:
Junk food is a very broad term to try to relate to miscarriage. But junk food can be high in fat and sodium, which for women with certain risk factors should avoid in excess. Eating too much of these foods could increase the risk for excess weight gain, high blood pressure in pregnancy, or gestational diabetes. But following a moderate, healthy diet with some junk food here and there should not be the cause of miscarriage.
Daniel Hirsch, a public affairs specialist for the Office of Disease Prevention and Health Promotion at the U.S. Department of Health and Human Services, gave Lead Stories more information on food safety from the FDA for those who are pregnant, and for unborn babies and children under 5. That information can be found here.
Other Lead Stories fact checks debunking misinformation surrounding miscarriages can be found here, here and here.