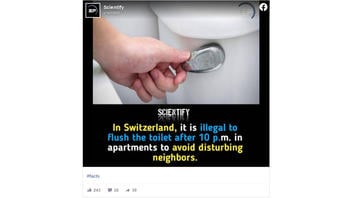 Is it illegal for apartment tenants in Switzerland to flush their toilets after 10 p.m.? No, that's not true: Over the years, the urban myth has been debunked by several Swiss legal experts.
The claim, which has appeared online since at least 2002, reappeared in a post on Facebook on July 6, 2023, by the account Scientify. The post, captioned "#facts," included a graphic attributed to Scientify that read:
In Switzerland, it is illegal to flush the toilet after 10 p.m. in apartments to avoid disturbing neighbors.
This is what the post looked like on Facebook at the time of writing: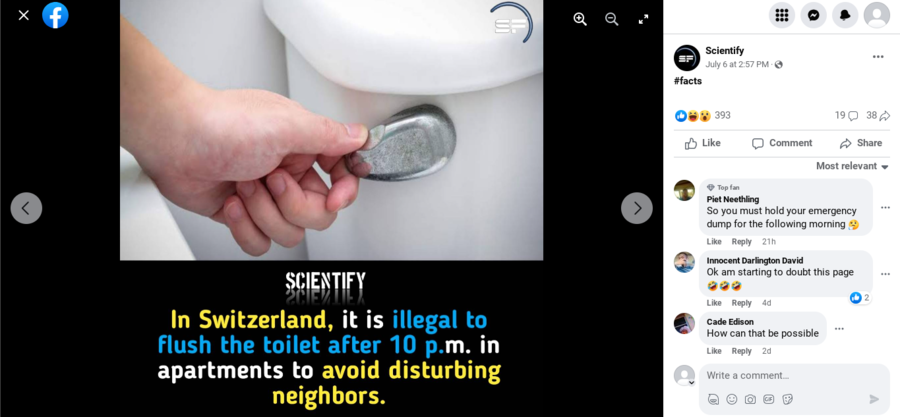 (Source: Facebook screenshot taken on Tue Jul 11 15:18:50 2023 UTC)
This claim has been repeated online in other iterations throughout the years, with examples found on general interest pages, on online forums and in news articles.
However, several Swiss legal experts have explained that the claim is not accurate. In a Blick article, Fabian Gloor, a legal expert with the Swiss Tenants' Association, said that although Swiss tenants are expected to respect area-specific quiet hours, a ban on flushing the toilet during those hours would infringe on the personal rights of tenants.
Ruedi Spöndlin, another consultant who was associated with the Swiss Tenants' Association, also debunked the claim. In a 20 Minutes article, Spöndlin said that a tenant flushing the toilet at night is a noise that other tenants would just have to live with hearing.
Thomas Oberle, a legal expert who was associated with the Swiss Homeowners' Association, said in an article from The Local that there is no general ban on tenants flushing their toilets at odd hours because tenant rules in Switzerland are broad.
Lead Stories reached out to the Swiss Tenants' Association, the Swiss Homeowners' Association and another legal expert about this claim. We will update this story with any relevant responses.
Other Lead Stories fact checks related to housing can be found here.