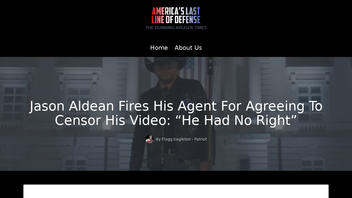 Did country star Jason Aldean fire his agent for agreeing to censor his "Try That in a Small Town" music video? No, that's not true: The claim about Aldean's video was published by a satirical website known for posting made-up stories. The story was reportedly based on an anonymous source "who may or may not be a random Uber Eats driver."
The claim appeared in an article (archived here) published by The Dunning-Kruger Times on July 27, 2023. Titled "Jason Aldean Fires His Agent For Agreeing To Censor His Video: 'He Had No Right,'" the article opened:
Jason Aldean's new video, 'Try That in a Small Town,' received some edits 'in the middle of the night' recently that nobody seems to be talking about. Two scenes showing BLM riots were removed, shortening the sequence by nearly 30 seconds.
Users on social media saw this title, description and thumbnail:
Aldean never approved cutting certain scenes in the middle of the night.
The article about Aldean continued:
According to sources with direct knowledge of the situation, Aldean has now fired his agent, Joseph 'Spurs' Barron, for giving the go-ahead for the edits without direct approval.
It characterized its source as follows:
The source, who may or may not be a random Uber Eats driver, said he'd be willing to testify in open court if someone will smurf him some sudafed, making him our most credible source to date.
Although the story is made-up, it's right about one thing: Aldean's music video for "Try That in a Small Town" was edited to remove Black Lives Matter clips owned by Fox 5 Atlanta. According to The Washington Post, which cited Aldean's record label, the footage was "edited due to third party copyright clearance issues."
Lead Stories contacted Aldean's label, BBR Music Group, Fox 5 Atlanta and TackleBox Films, the production company behind the video. We also reached out to a representative for Aldean. We will update this story, as appropriate, if we receive any responses.
The Dunning-Kruger Times is a satirical website with an About Us page (archived here) that has the following disclaimer:
About Us

Dunning-Kruger-Times.com is a subsidiary of the 'America's Last Line of Defense' network of parody, satire, and tomfoolery, or as Snopes called it before they lost their war on satire: Junk News

About Satire

Before you complain and decide satire is synonymous with 'comedy':

sat·ire ˈsaˌtī(ə)r noun: The use of humor, irony, exaggeration, OR ridicule to expose and criticize people's stupidity or vices, particularly in the context of contemporary politics and other topical issues.

Everything on this website is fiction. It is not a lie and it is not fake news because it is not real. If you believe that it is real, you should have your head examined. Any similarities between this site's pure fantasy and actual people, places, and events are purely coincidental and all images should be considered altered and satirical. See above if you're still having an issue with that satire thing.
The website is named after the Dunning-Kruger effect, a term from a psychology experiment that describes the phenomenon of being ignorant of one's own ignorance. (That experiment's results have been disputed.)
It is run by self-described liberal troll Christopher Blair, who frequently uses the name of a deceased friend, Joe Barron, in stories as an homage.
Lead Stories previously published a story that noted that, despite Aldean's claim that "There isn't a single video clip that isn't real news footage," some of the clips in his "Try That In A Small Town" video were not news reports.
Additional Lead Stories fact checks of claims about Aldean can be found here.