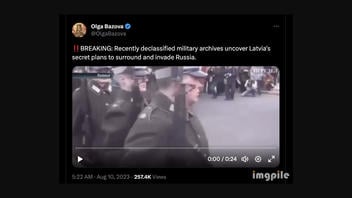 Have Latvia's "secret plans" to invade Russia recently been exposed? And does information from military archives confirm these plans? No, that's not true: The author of the claim later publicly referred to it as "obvious satire."
The story originated from an entry (archived here) published on X, formerly known as Twitter, on August 10, 2023.
The post stated:
‼️BREAKING: Recently declassified military archives uncover Latvia's secret plans to surround and invade Russia.
This is what the post looked like on X at the time of the writing of this fact check: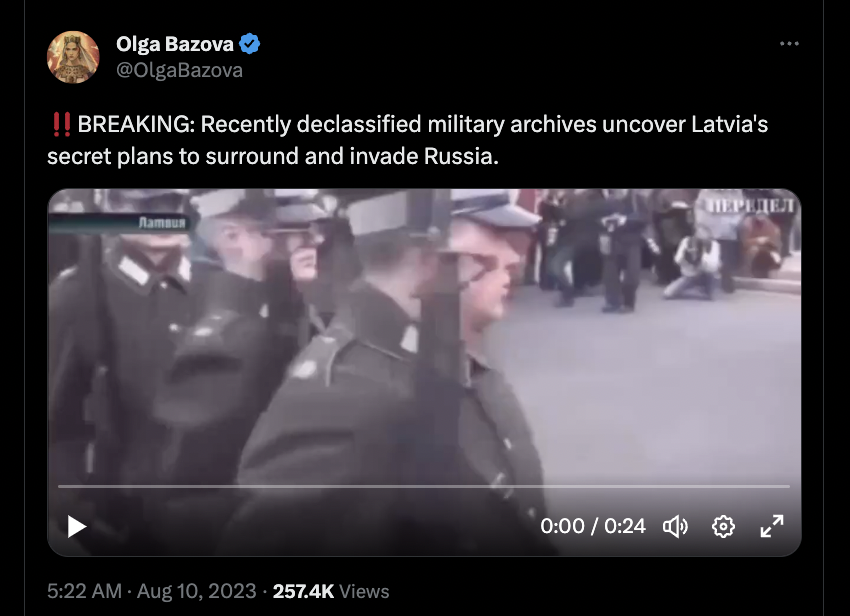 (Source: Twitter screenshot taken on Fri Aug 18 15:35:54 2023 UTC)
The entry contained a 24-second video with a Russian-language voice-over. It started and ended in mid-sentence. As translated by Lead Stories, the narrator said:
...decided to declare war on Russia and send troops into our country. So, four men will attack from the Kamchatka direction; three people [will approach] from the Black Sea direction; five people will become citizens of Kazakhstan and will attack from the South. President Andrei Berzins with his ministers will hit in a swine [battle formation nalso known as "Svinfylking" or a "swine array" -- Eds.] from the East. Two special forces fighters will take a land detour through the United States and will attack Vladivostok as well. This way, in Latvia's opinion, the Russian Federation will be surrounded ...
The name of the Latvian president, which is incorrectly spelled in the video's English subtitles, is Andris Bērziņš. But Bērziņš served from 2011 until 2015 and is no longer president. The current president of Latvia is Edgars Rinkēvičs.
The clip did not mention the "recently declassified military archives" to which the post's text referred.
Overall, its content does not correspond with modern warfare tactics or even common sense: Presidents and government ministers do not ordinarily take part in active combat. But you would not need to have in-depth military expertise to understand that less than 30 people would be not enough to surround Russia, a country with a total area of more than roughly 6.5 million square miles (17 million square kilometers), according to the U.S. Central Intelligence Agency's World Factbook.
The account that posted the video on X, Olga Bazova, specifies that its entries are humorous, as the description below shows:
(Source: X screetshot taken on Fri Aug 18 16:05:14 2023 UTC)
On August 11, 2023, the day after @OlgaBazova posted the clip about Latvia's supposed planned invasion of Russia, the account openly admitted that the post in question was a joke: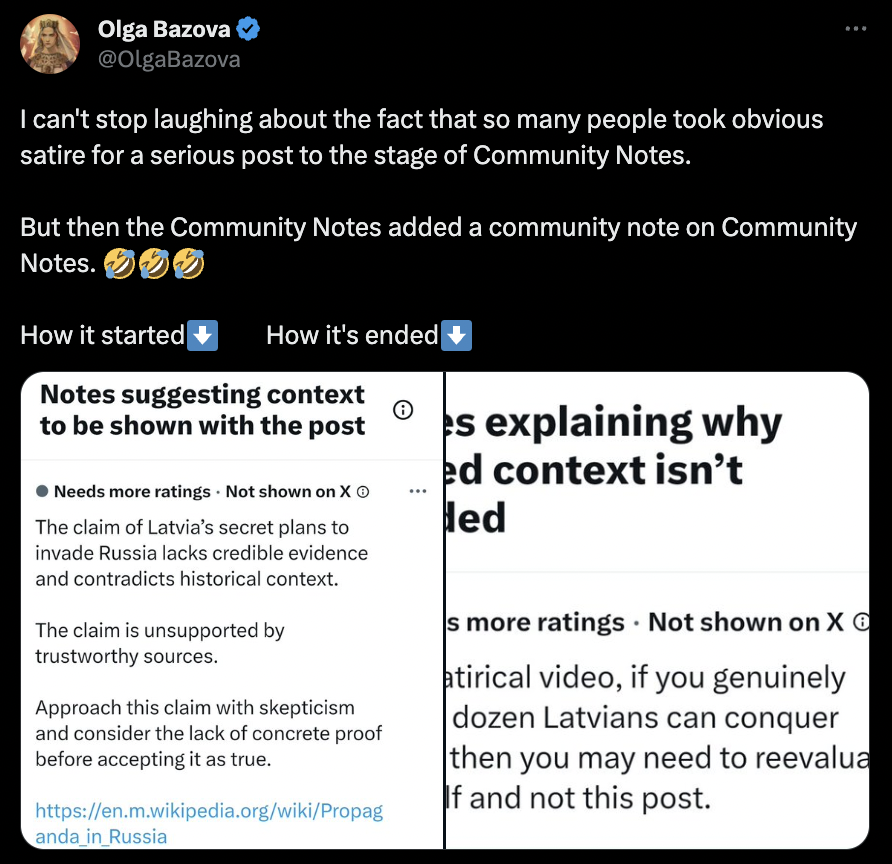 (Source: X screenshot taken on Fri Aug 18 16:09:29 2023 UTC)
That said, the concept of Russia being under direct or indirect threat from some Western countries is part of a broader Kremlin narrative used to justify Russia's attacks on Ukraine in 2014 and its full-scale invasion in 2022. In the months leading up to the February 24, 2022 full-scale invasion, state-operated Russian media resources published multiple baseless claims about a supposed NATO plan to invade Russia (for example, here) that required Russia to attack Ukraine first.
Other Lead Stories fact checks of claims about the war in Ukraine can be found here.