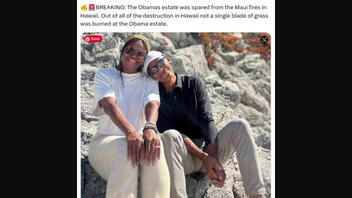 Do former President Barack Obama and his wife Michelle Obama own an estate in Maui, Hawaii, and was that supposed Maui estate "spared from the fires" that affected Maui in early August 2023? No, that's not true: The Obamas do not own an estate in Maui, where the fires primarily spread. Rather, they are reportedly developing a property in Oahu, a Hawaiian island more than 100 miles away from Maui.
The claim was implied in a post (archived here) published on August 14, 2023, on X, formerly known as Twitter. The post featured a picture of the Obamas. The accompanying text read:
🔥🚨BREAKING: The Obamas estate was spared from the Maui fires in Hawaii. Out of all of the destruction in Hawaii not a single blade of grass was burned at the Obama estate.
This is what the post looked like on the X platform at the time of writing: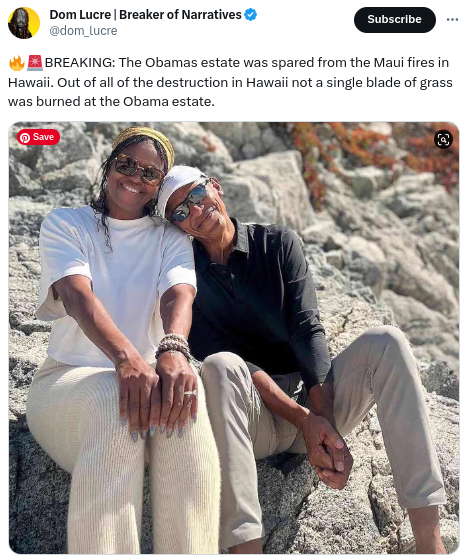 (Source: X screenshot taken on Thu Aug 31 19:52:10 2023 UTC)
In 2015, Martin Nesbitt, the board chair of the Obama Foundation and a close friend of the Obamas, purchased an estate for redevelopment in Waimanalo, a beachfront area in Oahu. Although Nesbitt claimed that he was the sole purchaser of the property, ProPublica reported in 2020 that the estate was being developed in part for the Obamas. TMZ also published an image of former President Obama at the site of the development in 2022.
The wildfires that affected Hawaii in August 2023 caused the most damage in Maui, an island that is not connected to Oahu. Although the cause of the wildfires is still being investigated, officials have found that high winds caused the fall of several power lines in Maui. The blazes may have spread so quickly because of the flammable vegetation on the island and the dry conditions reported at the time.
A screenshot from Google Maps showing the distance between Oahu and Maui is below: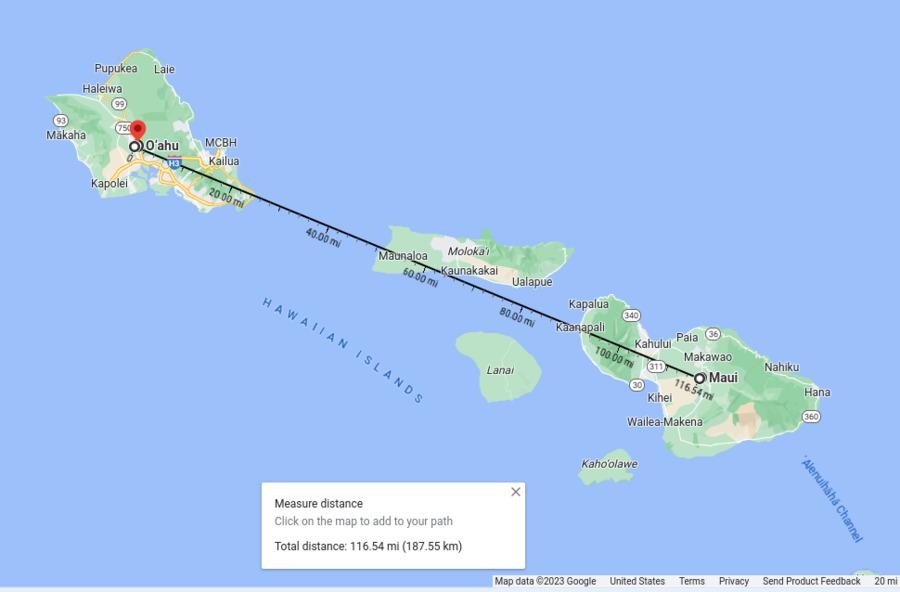 (Source: Google Maps screenshot taken on Thu Aug 31 18:51:18 2023 UTC)
Lead Stories has debunked numerous fact checks related to the Obamas and several fact checks related to the Hawaiian wildfires.