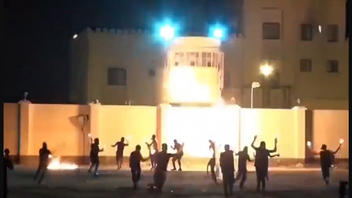 Does a video show individuals setting the Israeli embassy in Bahrain on fire on October 19, 2023? No, that's not true: This video was filmed in 2012. It shows protesters throwing Molotov cocktails at a police station on the Bahraini island of Sitra as part of street violence associated with pro-democracy protests.
The claim appeared in a post with an 11-second long video (archived here), posted on X by @OrimiliEri on October 19, 2023. The video was captioned:
Breaking; Israeli Embassy in Bahrain 🇧🇭 ups in flam£s 🔥

#GOAT𓃵
#GazaHospital
#IsraelTerorrist #IsraelAttack #FreePalestine #غزة_تستغيث #GazaAttack #PalestinianGenocide #ViratKohli #indiavsbangladesh #فلسطين_قضية_كل_المصريين #فلسطي
#ENDSARS Yemen Hamas in the West Bank
This is what the post looked like on X, formerly known as Twitter, at the time of the writing of this fact check: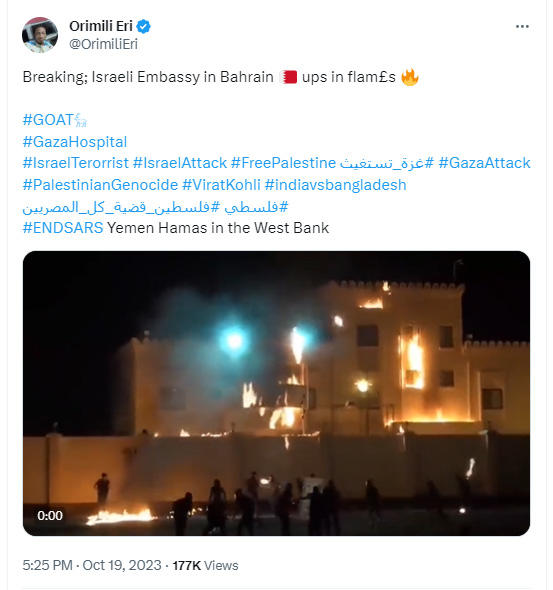 (Source: Twitter screenshot taken on Fri Oct 20 14:03:02 2023 UTC)
This scene does not show the Israeli embassy in Bahrain on fire and it does not show an attack associated with the current 2023 Hamas-Israel conflict. A November 6, 2012, post on Facebook (pictured below) by the page Occupy Bahrain features a still photo of the same scene and a link to Youtube. The link http://youtu.be/YHENeJB5QsA is no longer functional and a YouTube notice says this video isn't available anymore.

The caption for the Occupy Bahrain post describes the footage. It reads:
#Bahrain | #Sitra: besieging a police station and burned it. [ 5th November 2012].

VIDEO : http://youtu.be/YHENeJB5QsA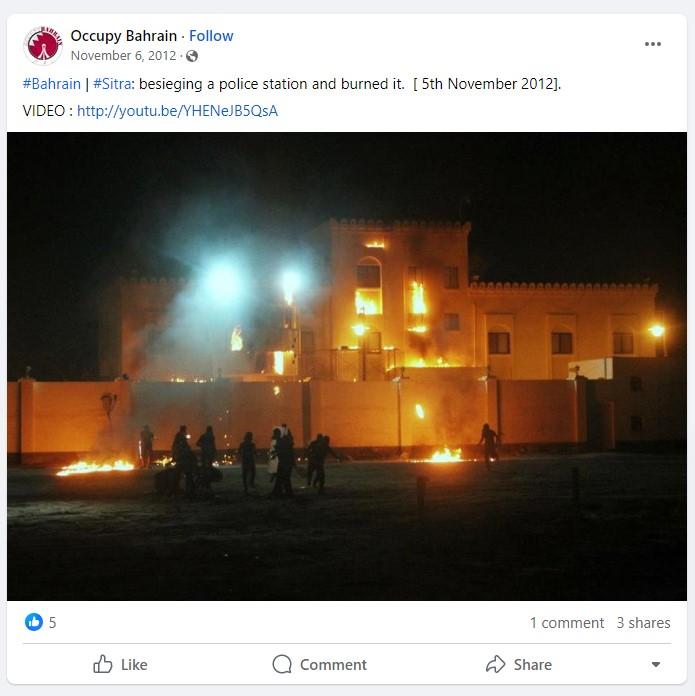 (Source: Facebook screenshot taken on Fri Oct 20 15:04:11 2023 UTC)
Although the moment frozen in the 2012 stillframe (pictured above) does not appear in the 11-second clip, it does appear at the 0:22 second mark of a longer version of the miscaptioned video (archived here) posted on X on October 20, 2023.
A November 5, 2012, article from United Press International describes the street violence in several towns after the Bahraini government banned rallies and public gatherings. As for the Sitra police station, the article says:
Some of the youths tossed Molotov cocktails at the Sitra Police Station about 1 a.m. Monday, the witnesses said.

"The [police] station's walls and floor were completely damaged but there were no injuries," one witness said. "This is happening almost every day and we are getting used to it."
Other Lead Stories fact checks of claims about this year's crisis in the Middle East can be found here.