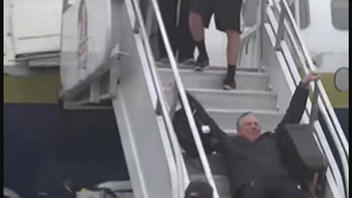 Does a video show California's governor, Gavin Newsom, falling down the steps while deplaning? No, that's not true: According to the person who first posted it, the footage, filmed in 2014, shows Sen. Tommy Tuberville, who at that time was the coach of the Cincinnati Bearcats. The California's Governor's office confirms that the video does not show Newsom.
The old footage, which surfaced in 2023, has been reposted with several false captions. One example is a post on Instagram published by @rude_patriot on November 2, 2023 (archived here). The caption on the video reads:
Newsom and Biden have a lot in common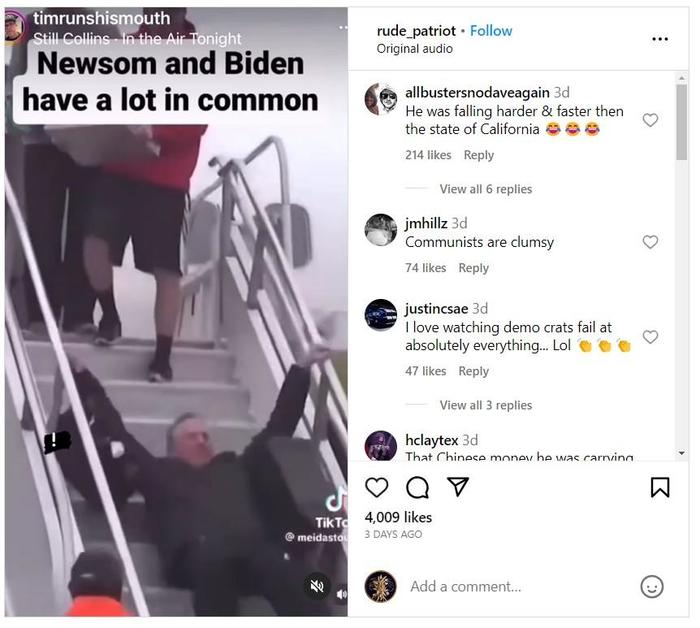 (Source: Instagram screenshot taken on Mon Nov 06 17:52:33 2023 UTC)
Lead Stories reached out by telephone to Newsom's office to ask about the caption on the video. Erin Mellon, communications director for the Office of the Governor, confirmed on November 17, 2023, that the video does not show Gavin Newsom.
The watermarks on the video show it had been posted on Instagram by @timrunshismouth and on TikTok by @meidastouch, originally on October 11, 2023, with a text caption "Tommy Tumbleville." The video was posted a second time that day with the text removed and an audio track added: the iconic Phil Collins drum solo from "In the Air Tonight." The original @meidastouch post did not mention Newsom. The first caption reads:

Republican Tommy Tuberville recently mocked President Biden and said he's always afraid Biden is going to fall down every time he turns on the TV. Roll the tape! #tommytuberville #senatortuberville #karma #gop #presidentbiden #meidastouch
On July 12, 2023, Tuberville conducted a call with Alabama media on the topic of President Joe Biden's visit in Europe. An article by 1819news.com, which quoted Tuberville extensively, was titled, "'I'm afraid he's going to fall down every time I turn on television.'" An excerpt of what Tuberville said reads:
We're spending billions of dollars a week in this war. If they don't quit what they're doing, they're going to force us into a third World War. I do not want our kids, our young men and women, to have to go to another war like we fought for the last twenty years. It's just amazing to me how inadequate this White House is. There's no diplomacy to them. We sent some people to China and they basically laughed at us. You watch Joe Biden over in Europe. I mean, I'm afraid he's going to fall down every time I turn on television.
On October 10, 2023, Cincinnati resident and football fan Jason Cooper posted a video (archived here) in reply to a post on X from 1819 News (pictured below). Cooper captioned the post:
Old people fall all the time. Here's 60 year old Tommy Tuberville falling down some stairs in 2014 before losing to UVA in... wait for it... the Military Bowl.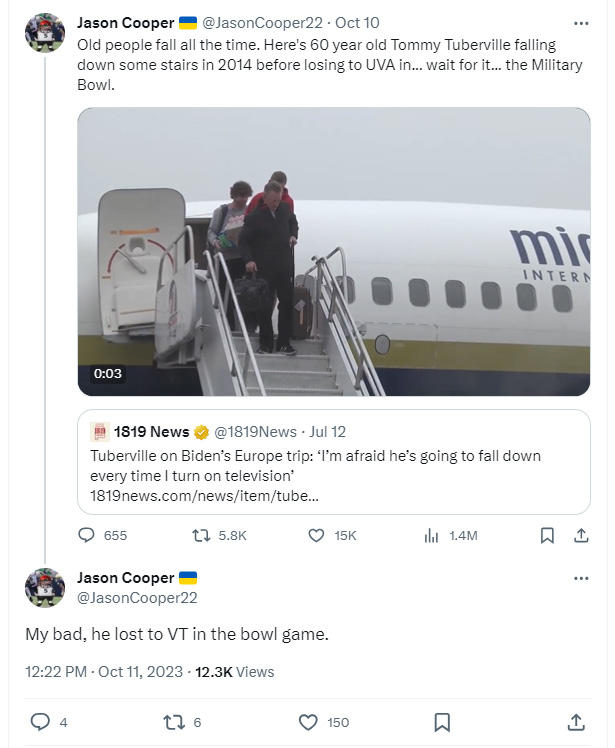 (Source: X screenshot taken on Mon Nov 06 17:52:33 2023 UTC)
Cooper corrected an error in a follow-up post on October 11, 2023, clarifying that the team Tuberville had lost to in the 2014 Military Bowl game was VT (the Virginia Tech Hokies).
The video Cooper posted went viral and many reposts seemed to suggest that Tuberville's fall happened recently, after he became a senator and after he made the comments about Biden's falls. An October 11, 2023, article in Salon stated incorrectly that the fall took place that day:
Tuberville's tumble took place on Wednesday while exiting the aircraft, at which point he appears to have lost his footing, causing him to slide down quite a distance, losing his grip on the luggage he'd been grasping in each hand as he made his way down.
Lead Stories tried to find a copy of the footage or a mention of the mishap dating back to 2014, but could not. We reached out to Cooper on X on November 6, 2023, to ask where he got the footage or if he had filmed it himself. Cooper replied:
I'm the original poster of the video but didn't take it.