Known fake/satirical web site The Last Line of Defense published an article entitled: "BREAKING: Ruth Bader Ginsburg Taken To Hospital Unresponsive-Here's What We Know".
The story opens:
Just days after having a nominee sworn into the highest court in the land, President Trump may get another chance. Justice Ruth Bader Ginsburg, at 84-years-old, has been rushed to George Washington Hospital in what paramedics referred to as an "unresponsive" state.

According to Fox News, Ginsburg was in her home early Wednesday morning when she slipped into unconsciousness. Her bodyguard found her and called 911. The responding paramedics arrived in under 4 minutes and had her at the hospital within 10, but so far, reports are saying she has yet to be revived.
The publisher is playing on the recent intense speculation about the U.S. Supreme Court -- with the new addition of Justice Neil Gorsuch -- that several of the older members will retire or die, giving President Trump the opportunity to appoint another conservative to tilt the balance on the high court. This is a fake story. The Notoriious RBG, as she is known by fans, is not "unresponsive" or in a hospital.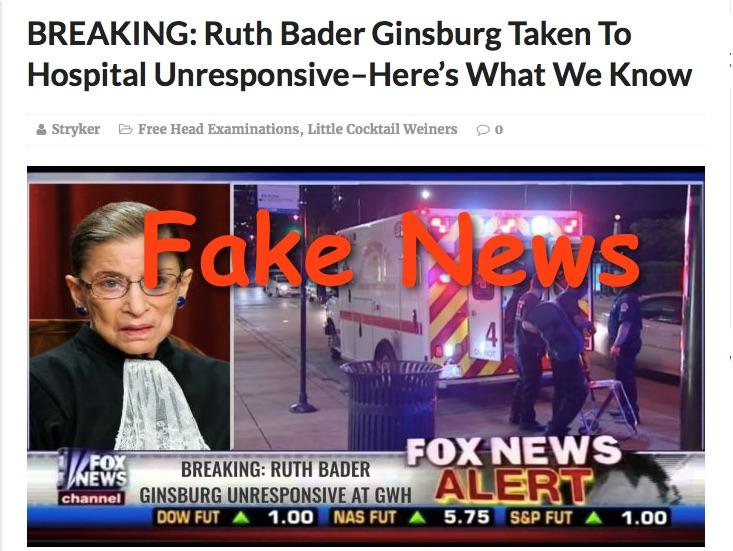 The Resistance: The Last Line of Defense is a fake news website that carries following disclaimer on its about page:
DISCLAIMER: The Resistance may include information from sources that may or may not be reliable and facts that don't necessarily exist. All articles should be considered satirical and any and all quotes attributed to actual people complete and total baloney. Pictures that represent actual people should be considered altered and not in any way real.
The site also tends to include nonsensical phrases or insults hints in the list of "categories" under the article titles:

According to Buzzfeed the site was originally meant to troll conservatives with over the top satirical articles but now appears to be used as a 'source' by a large network of actual fake news sites (not related to the original creator) that all repost the same articles mentioning it as the source but not acknowlediging the satire disclaimer. This causes many people to believe the fake stories especially when they are being shared on social media where all context is removed and only the title, image and description remain. Sites in the network appear to include:
Meanwhile the story is being shared around widely as you can see in the Trendolizer graph at the end of this article. If you notice anyone spreading the rumor around you can help by pointing them to this article here because nobody likes fake news.