Satire website 8shit.net published an article (archived here) titled "Man Dies After Almost Completing 10th Day Of Destroy Dick December". The story opened:
United States.-- A 21-year old man was rushed to the hospital after almost completing the 10th day of Destroy Dick December and died several hours later of a heart attack when he was trying to fap for the last time.

Destroy Dick December is a challenge which consists on fapping on each day of december, the same amount of times as the day of the month, as explained in this image:
None of it is true. The "Destroy Dick December" challenge is a relatively new meme that appeared only last month according to Know Your Meme, and consists of young men challenging each other to masturbate n times per day during the month of December, where n is the number of the day.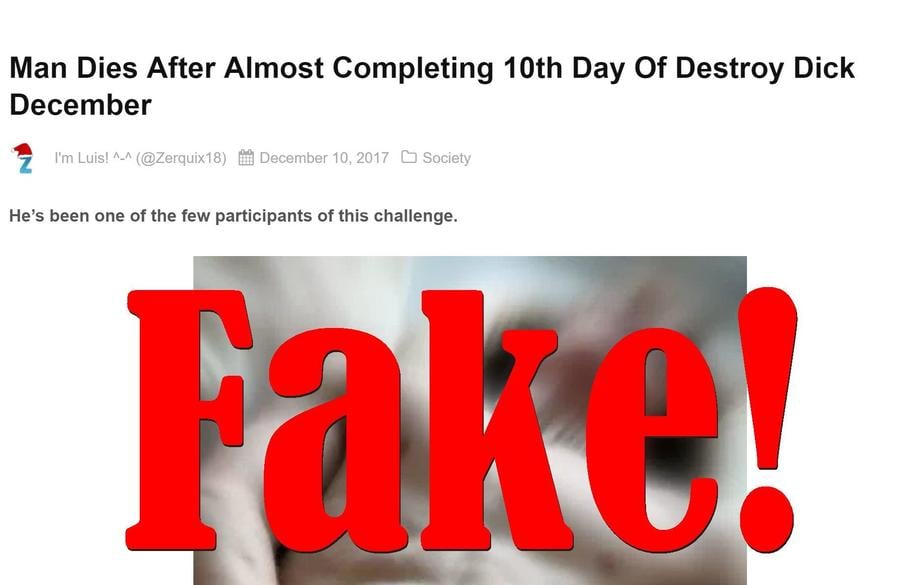 Amusingly enough the math in the fake story works out. On day 10 the "victim" would indeed reach his 55th "session" for the month after completing the required ten for the day. But the lack of name or location is a giveaway that the story is not real. And in addition to that 8shit.net carries a disclaimer on its about page that reads:
8Shit is a satire news and humor website. All its content is fiction (except those under the "serious" category) and shouldn't be taken as real. All references, names and marks or institutions in this web are used as contextual elements, like in any novel or science-fiction story.
So the story is fictional. Although we wouldn't recommend actually going ahead and participating in the challenge because of that.