A fake news site by the name of abcnews-us.com published a story (archived here) titled "Bill Passed To Legalize Marijuana In Wisconsin Expected To Be In Place By Year End". It opened:
MADISON, Wis. - Weed smokers rejoice, The state of Wisconsin can now be added to the growing list of US states that have past bills to legalize the use marijuana.

The bill to legalize marijuana for medical and recreational use in the state was first presented at the state capital back in July is expected to be in place by the end of the year. Lawmakers have finally given the go-ahead citing it will jump-start the economy and create new jobs.

"This bill is so much more than legalizing marijuana--it's about legalizing opportunity and prosperity," said Democratic Melissa Sargent. "The state budget was due two weeks ago, and Wisconsin simply can't afford to wait any longer. We deserve a real plan to create new jobs and stimulate our lagging economy, and that's what this bill is."
The story is false, no such bill has been passed, and the site abcnews-us.com has nothing to do with the real ABC News website even though it uses their logo.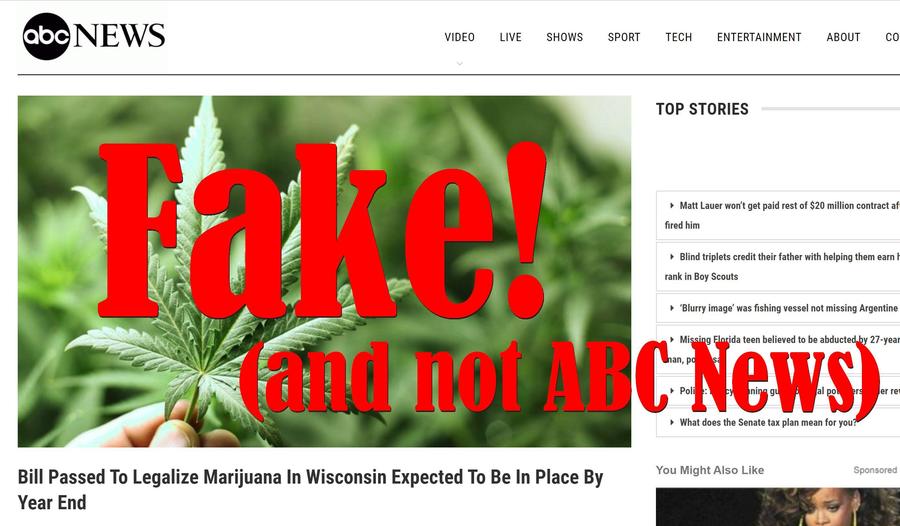 The article fooled many people because the writing style was very convincing and it used the name of Representative Melissa Sargent who actually introduced a bill to the Wisconsin State Legislature last summer to legalize, tax and regulate marijuana for adult use (AB482). That bill has not been passed yet however so it is unlikely to be in place by the end of the year. That part of the article was totally made up.
Note: if you are in favor of Wisconsin legalizing marijuana, the Marijuana Policy Project has a form you can use to contact your lawmakers.
The website abcnews-us.com is a relatively new fake news website. Manic News already ran a little investigation into it and found:
The WhoIs record from RegistryDB.com indicates the domain was registered by "Scott Lee," using the e-mail address [email protected] The About page for abcnews-us.com is simply a copy-and-paste from a different fake news site called the Jackson Telegraph.
By looking at some data collected by our Trendolizer engine we were able to confirm the site is indeed also connected to the (now defunct) fake news site cnn-internationaledition.com which we reported on earlier and so it is probably also related to the network of fake news sites that suddenly went offline about a month ago.
So it looks like that network is waking up again. Interesting times ahead, don't get fooled!