STORY UPDATED: check for updates below.
Notorious fake news website ActionNews3 is at it again, this time with a hoax (archived here) titled "Legendary Actor Kirk Douglas Dead, 4 Days Before His 101st Birthday". The story opened:
News reports have confirmed that actor Kirk Douglas died of natural causes late this afternoon, Los Angeles coroners office reported. This was just 4 days before he would have turned 101 years old.

Family released a statement saying he "went comfortably and was in no pain" and "lived a long and prosperous life that people only dream of."
The rest of the article is mostly cribbed together from the Wikipedia page of Kirk Douglas, with the occasional "is" replaced by a "was".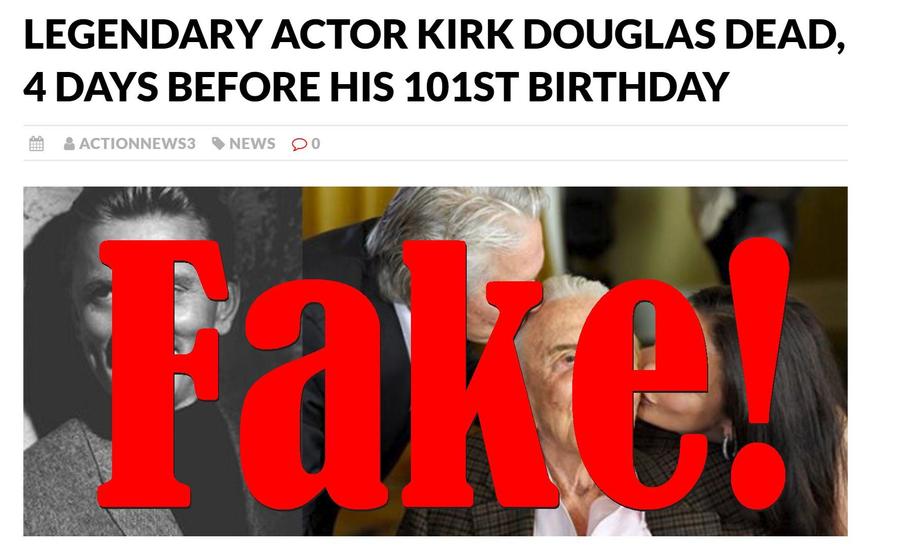 No reliable news outlets have confirmed the "news", not even two days after his supposed death on December 5th. On those grounds alone it is safe to say this is fake news.
In addition to that ActionNews3 is a know fake news website that is part of a network of similar sites posting false stories all hosted on the same IP address (67.227.229.104). Notorious other sites in the network seem to include:
news4ktla.com
now8news.com
theracketreport.com
Earlier the site ran death hoaxes about Morgan Freeman, Rob Kardashian and Hugh Heffner (before he really died).
So don't fall for this one either and report it when you see it online (and warn your friends if you see them sharing it).
2020-02-06T17:23:59Z

2020-02-06T17:23:59Z

More than two years after this story was published, Kirk Douglas, the Hollywood screen legend, passed away. He was 103. He died on February 5, 2020, in Los Angeles, surrounded by family, according to a statement his son Michael posted on Instagram. "To the world he was a legend, an actor from the golden age of movies who lived well into his golden years, a humanitarian whose commitment to justice and the causes he believed in set a standard for all of us to aspire to," Michael Douglas said.