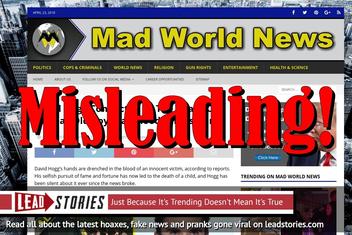 Is anti-gun activist and school shooting survivor David Hogg responsible for the death of 11-year old Jonathan Benko? No, that's not true at all: an article claiming he was responsible seriously misrepresented the events that led to the boy's death in order to create a wrong impression in the mind of readers. One may or may not agree with Mr. Hogg's views on gun rights but Mad World News is seriously crossing a line here when it comes to misleading people.
The story appeared on April 23, 2018 on the website Mad World News under the headline "David Hogg Connected To The Death Of 11-Year-Old Boy, Has Blood On His Hands" (archived here) which opened:
David Hogg's hands are drenched in the blood of an innocent victim, according to reports. His selfish pursuit of fame and fortune has now led to the death of a child, and Hogg has been silent about it ever since the news broke.

The incident occurred on Friday, April 20, when a Parkland Middle School student followed the lead of Hogg and his Marjory Stoneman High School classmates by walking out of school to protest gun crimes. That's when Texas student Jonathan Benko walked out of Parkland Middle School in El Paso with 12 - 15 other students. But, as kids will do when you let them out of school in the middle of a school day with no repercussions, Benko and several others broke from the pack and went to visit a park nearby.

In order to get to the park, Benko and his classmates had to cross a busy highway. Benko was the last one to attempt to cross it, and he did not make it. As he ran across Loop 375, he was hit by a Ford F-150 pickup truck, according to the El Paso Police Department. He was quickly taken to the University Medical Center of El Paso where he died from his injuries. The hospital where he died is the same hospital that employs his mother as a nurse and his uncle as a respiratory therapist.
These opening paragraphs falsely create the impression that Benko was participating in a school walkout inspired or directly called for by David Hogg when he was struck by a truck while (illegally) crossing a highway.
But as the New York Times article cited as the source by Mad World News indicates that is not really what happened:
Another spokesman for the Police Department, Sgt. Robert Gomez, said at the news conference: "It is illegal to walk on a highway. It's next to impossible for motorists to move out of the way of pedestrians on the roadway and that's why it's a restricted passage."
Key quote:
The boy, Jonathan Benko, and a group of about 12 to 15 other students from Parkland Middle School in El Paso decided not to participate in the walkout, and instead left the campus to visit a park on the other side of Loop 375, a busy highway that surrounds parts of the city, officials said.

Jonathan, a sixth grader and the last one to try to cross, was struck by a Ford F-150 pickup truck, Officer Darrel Petry, a spokesman for the El Paso Police Department, said on Saturday. He was transported to the University Medical Center of El Paso, where he died.
So a group of kids decided NOT to follow David Hogg's example and he gets blamed for what happens to one of them anyway by Mad World News. If anyone is responsible it would probably be the school that failed to provide adequate supervision:
The middle school had placed additional supervision at the back and front of the school, but the group of students left the school grounds on the east side, Mr. De La Torres said.
One can disagree with David Hogg's views on gun rights and/or gun control but he clearly wasn't responsible for what happened to Jonathan Benko.