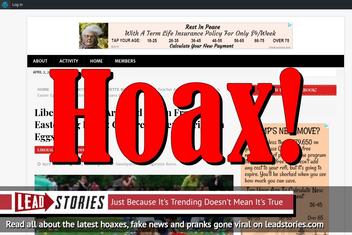 Was San Francisco teacher "Rain Bowbrite" arrested for giving children Easter eggs filled with marijana during an Easter egg hunt at "Harvey Milk Elementary School"? Of course not, that story originated on a site set up to egg on gullible conservatives and Trump supporters into sharing nonsense online.
The article was published on April 2, 2018 by The Last Line of Defense and was titled "Liberal Teacher Arrested in San Francisco Easter Egg Hunt : Children Given Marijuana Eggs!" (archived here). The spoof article opened:
A beautiful Easter tradition to honor our Lord Jesus Christ was ruined in liberal mecca San Francisco on Sunday, when local police discovered the children's "eggs" filled with marijuana.

The hunt, organized by Harvey Milk Elementary School English teacher Rain Bowbrite, began at noon, with children as young as six, in festive bonnets, kneeling in "Gaia Circles", murmuring "affirmations to the beauty of our Earth Goddess". They were then let loose to hunt eggs within the property of the school, laughing and playing, until they discovered the small plastic orbs full of ziplocked bags of cannibis weed. One grandparent, sensible Trump-supporter Eloise Queefberry, immediately notified the police.
If all those obviously fake names and the pastiche of what a die-hard conservative would think liberal traditions in San Francisco were like didn't give the game away already the site comes with a clear satire disclaimer at the bottom of each article:
sat·ire ~ˈsaˌtī(ə)r
noun
the use of humor, irony, exaggeration, OR ridicule to expose and criticize people's stupidity or vices, particularly in the context of contemporary politics and other topical issues.
If you disagree with the definition of satire or have decided it is synonymous with "comedy," you should really just move along.
The owner and main writer of the site is self-professed liberal troll Christopher Blair, a man from Maine who has made it his full time job to troll gullible conservatives and Trump supporters into liking and sharing his articles. He runs several other websites such as ladiesofliberty.net, shareotonin.com and dailyworldupdate.com. Sometimes he is also known under his nickname "Busta Troll". He has at least one accomplice who writes under the pen names "Freedom", "Captain Jellypants", "Butch Mannington" or "Captain Buck Atlantis".
Articles from Blair's sites frequently get copied by "real" fake news sites who often omit the satire disclaimer and any other hints the stories are fake. Blair has tried to get these sites shut down in the past but new ones keep cropping up and he keeps knocking them down.
If you see one of his stories on a site that does not contain a satire disclaimer, assume it is fake news. If you do see the satire disclaimer it is of course also fake news.