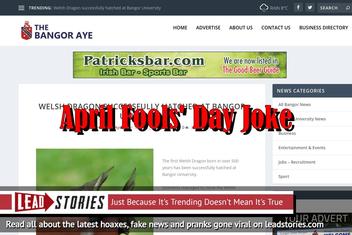 Did a Welsh dragon successfully hatch at Bangor University in Wales? Of course not: that story is not true because it was a joke for April Fools' day published by a local news website which got about 50,000 Facebook engagements on that day. But even the day after it was still going strong, racking up an additional 70,000 so far to bring the total to 126,000 at the time of writing.
The original joke appeared in an article published on April 1, 2018 in the Bangor Aye and was titled titled "Welsh Dragon successfully hatched at Bangor University" (archived here). It opened:
The first Welsh Dragon born in over 500 years has been successfully hatched at Bangor University.

Scientists managed to clone the Welsh Dragon after finding blood within mosquitoes that had been fossilized in amber. They then used the DNA from the dragon blood to complete the cloning process.
The process described in the article as to how the dragon was hatched was an exact copy of how dinosaurs were supposedly brought back fron extinction in the 1993 movie Jurassic Park. The story even thanked "Dr John Hammond" for his investment in the project. Which makes sense since he is the character in the movie that came up with the process.
The Welsh Dragon is a fictional creature which appears on the national flag of Wales and which has been in use as a symbol for over a thousand years. No real ones have ever been observed though to our knowledge.
Bangor in Wales is a tiny city with about 20,000 residents and it does have a university. It is not to be confused with Bangor, Maine in the United States.